We are going to have a 3-day-tour in Halong to celebrate 1st wedding anniversary. We want to buy some gifts for relatives and friends. May you share with me what I should buy, where to buy them and some stores has reasonable price with good quality produces? Thanks a lot! (Khanh Linh, Hanoi).
Generally, visitors to Halong Bay often buy two typical types of gift: seafood and souvenir.
1. Seafood in Halong
a. Dried cuttlefish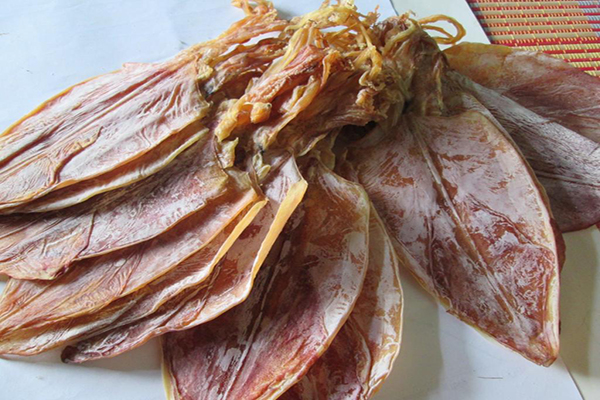 Dried cuttlefish, one of must-buy gift in Halong
Dried cuttle fish, one of special food in Halong, is considered as one of delicious food in Vietnam. However, you should be careful to choose and buy it because there are a lot of "fake" dried cuttle fish in the market now. To make sure you don't buy the wrong product, select nice, light color and avoid any that is very dark brown or is devoid of aroma…
Price for every types of dried cuttle fish:
- Large dried cuttlefish (6 -7 cuttlefish per kilograms): 700.000 dong /kg.
- Medium dried cuttlefish (8-9 cuttlefish per kilograms, 20-25 centimeters in length): 600.000 dong/kg.
- Smaller dried cuttlefish ( 14 - 15 cuttlefish per kilograms): 500.000 dong/kg.
b. Dried sipunculus nudus (sá sùng)
Sipunculus nudus is the healthy food that is rich of protein and other nutrients. You should choose the thick and white sipunculus nudus which ranges from 7cm to 15 cm with a distinct aroma. The price for one kilogram is quite high, about 4 - 5 million VND.
c. Grilled chopped squid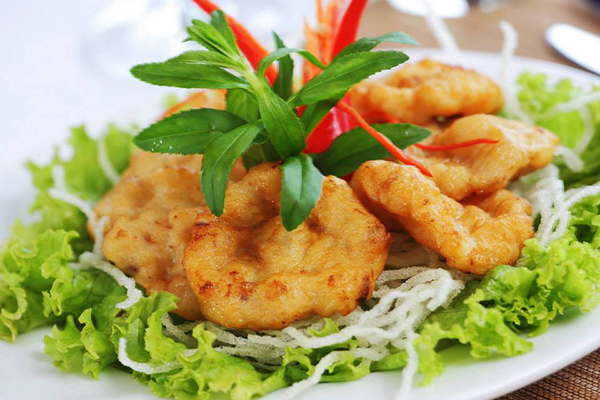 Grilled chopped squid, special food in Halong
Similar to cuttlefish, grilled chopped squid is rank to be one of 50 special food in Vietnam. You should eat it before decide to buy. Good grilled chopped squid will have good smell, crunchy and chewy. It is 330.000 to 400.000 dong for per kilogram, about 30 - 32 pieces.
See more:
- Markets areas, shopping places for tourists to Ha Long Bay
2. Souvenir in Halong
Souvenirs made from shell of sea creatures always attract visitors here. You should bargain to have the reasonable price. With clothes and toys for children, bargain as half as the price seller said. To avoid buying expensive products or quality is not equal to price, you should bargain before decide to buy.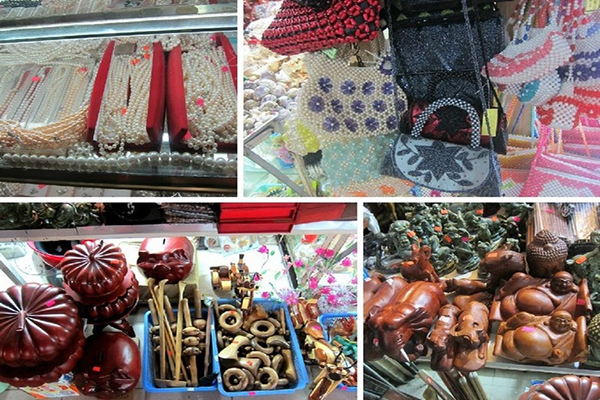 3. Address to buy gifts in Halong.
a. Halong Market
Location: Bach Dang road, Halong City, Quang Ninh.
Opening hour: 6 a.m to 6.30 p.m.
There are various choice for you from souvenir to seafood and other special things.
b. Halong Night Market
Opening from 6 p.m to midnight, Halong night market is the ideal place to join excited activities, enjoy seafood and other specialities in Halong. Besides, the market show a lot of products for you to buy as a gifts such as: necklace, wind chime, keychain made from shells, clothes, hats and so on.
Hope you will satisfy with this advisory. Wish you and your partner have an unforgetable memories on the trip to Halong Bay.
---------------------
Wyndham Legend Halong Hotel
Phone: +84-(0)-203-3636 555
Email: info@wyndhamhalong.com
https://www.wyndhamhalong.com
Address:12 Ha Long, Bai Chay, Hạ Long City, Quang Ninh