With thousands of small and big islands, Halong is always praised as "Top 10 beautiful destinations in the world" (Virtual Tourist), "Top 10 romantic places in 2017" (National Graphic) by international articles. Don't miss the chance to explore the UNESCO World Heritage Site in order to get unforgetable memories.
Let's join with us to explore excited activities on Halong Bay;
1. Kayaking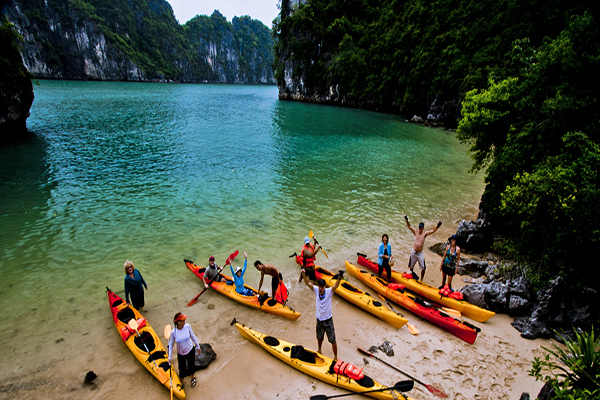 It is regretful if you do not try kayaking on your trip to Halong Bay. Paddling the kayak, contemplating the bay and breathing fresh air are really the excited experience.
Halong Bay has been voted by National Geographic Adventures magazine as one of top 25 world best kayaking service. The price for per kayak is fluctuant from 100.000 dong to 200.000 depending on kayak type (1, 2 and 3 seats).
2. Night on boat
The boat in Halong bay is considered as a small hotel that provides full facilities , services and amenities, including private rooms, air condition, free wifi, private bathroom, gymnasium and so on.
It is really interesting when you are relaxing in the room but are able to have the overall view of the bay through windows.
3. See the bay from seaplane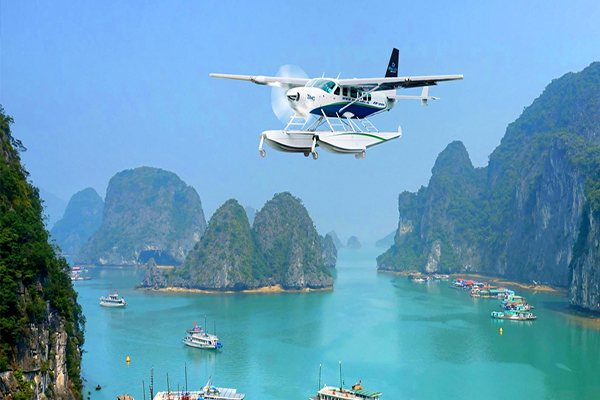 In case of not satisfying with the view from boat on Halong Bay, choose seaplane to have new and different view is not the bad idea.
Visiting on seaplane is not only save moving time but also bring you the overview and full sight of all islands as well as lanscape of the bay.
Seaplane service provides 2 seats for pilots, 12 other seat for visitors and large windows that help everyone freely enjoys the view at the height of 500 to 3000m from sea level.

Especially, The New York Times article (USA) has voted seaplane service in Halong Bay as one of the world best services in 2015.
4. Climbing
Besides poetic view, fresh water, Halong Bay challenges visitors by rock mountains which attracts a lot of visitor love adventure and climbing. If you are crazy for this type of sport, I'm sure you cannot miss the chance to join this activity with view to responding the desire of conquering nature.
5. Explore caves system
Halong Bay is considered as the watercolour painting and is created a perfect beauty by the nature. The system of small and big caves is also the contribution to the charming of the bay. Every cave has it own special name that make visitors curious to explore these cave as well its name. These cave are: Thien Cung cave (Heaven Cave), Sung Sot Cave (Surprise Cave), Luon Cave, Dau Go Cave (Wooden Cave), Hanh Cave, etc.
Obviously, with a lot of activities, you and your family will get unforgetable and fascinated time here

.




Read more: All backpackers want to know on the trip to Halong

Resuming kayak services on Ha Long Bay

---------------------------------

Wyndham Legend Halong Hotel

Phone: +84-(0)-203-3636 555

Email: info@wyndhamhalong.com

https://www.wyndhamhalong.com

Address:12 Ha Long, Bai Chay, Hạ Long City, Quang Ninh