I bet that you have excited about the miniature Sapa of Quang Ninh - Binh Lieu or should i call "dinosaur back-spine"?
This is the place where the wild nature, the winding border roads, the forest pine, beautiful terraces ... all make impressive points which attract the mountains enthusiasts.
Let's move on to the part 2 of the Binh Lieu experience to find out its transportation, accommodation, and cuisine.
How to get to Binh Lieu?
Because Binh Lieu is too pristine, haven't developed the strong tourism yet, so there is no Binh Lieu available. Therefore, if you want to travel to Binh Lieu, you must travel self-sufficient by motorbike, car or passenger car…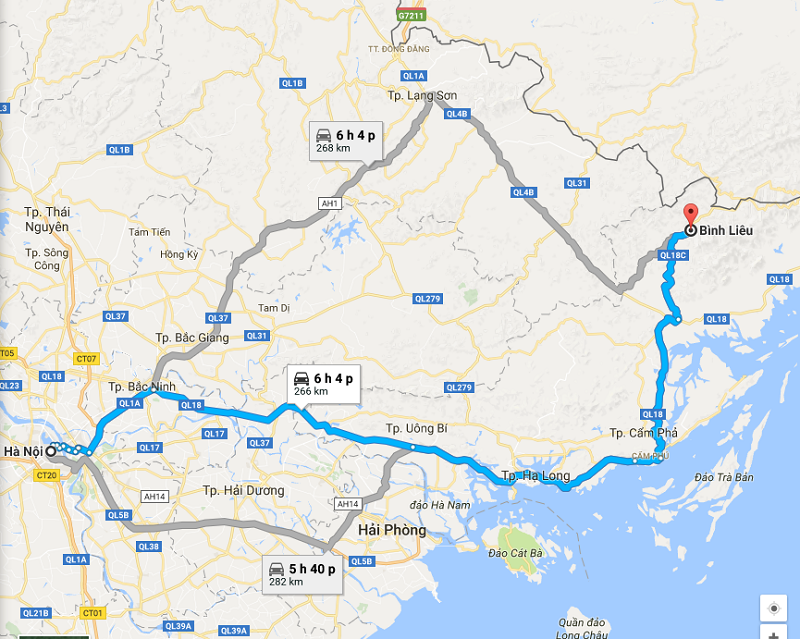 These are the roads that you can get to Binh Lieu from Ha Noi
1. Self-arrive to Binh Lieu
The distance of Hanoi - Binh Lieu is about 269km - 278km (depends on each road). This is a quite far distance, then you should consider when choosing to move by motorcycle or car.
You can choose one on the two routes:
Route 1:
From the center of Hanoi, you go to the National Highway 1 -> then go to the National Highway 18 -> Que Vo Road (Bac Ninh) -> Pha Lai -> passing Sao Do to Dong Trieu (Quang Ninh). From there, go to Uong Bi -> then to Ha Long -> pass Bai Chay bridge to Cam Pha -> Cua Ong -> Mong Duong and then Tien Yen. Then you will see Tien Yen, turn left to the National Highway 18C and then Hoanh Mo direction about 28km to Binh Lieu.

If you go by private car, the road seems simpler: From Hanoi, you go along the new highway Hai Phong and then along National Highway 10 direction to Thai Binh. Take this straight road about 40km to Uong Bi, then you go along the motorbike route. That's it.
Note: According to the experience of Binh Lieu tourism is safe, convenient and smoothly advise you: Because the road is quite far, you will take about 7 hours to move to the place, so you need to balance time Like, divide the total distance into 3 stops, each stop you should rest about 15 minutes and then go forward.
Route 2:
You go along Vinh Tuy bridge direction National Highway 5 -> turn into Highway 1 to run through Bac Ninh -> Bac Giang -> to Lang Son, then turn to Highway 4B, you will see the signpost turn to Highway 18C is to Binh Lieu. The road from Lang Son to Dinh Lap - Binh Lieu is quite round, there are many winding roads which is very dangerous that you should avoid moving at night.
2. Arrive to Binh Lieu by passenger car
If you want to save the traveling time and ensure the safety of the trip, the passenger car is a reasonable transportation.
In Hanoi, there are many passenger car houses going to Quang Ninh but only Hung Long and Kien Duc are going straight to Binh Lieu with a total of 2 cars per day that depart at 7h and 11h with fare oscillating around 160,000 per person (the cars have free wifi and water serves customers for free).
Departure time:
From Ha Noi: 19h - 3h to Binh Lieu - From Binh Lieu 22h - 5h to Hanoi Please call directly to the car house for more specific information and reservations in advance to avoid running out of seats.
After getting off the car at Binh Lieu, you can rent a motorbike to explore all the tourist attractions in Binh Lieu. Motorcycle rent rate is about 9$ days/car. You can contact at Mr. Hung: 01648123425
Where to stay in Binh Lieu
Binh Lieu is not developed strongly in tourism so the hotel, the guesthouse system is not much and the price is expensive, fluctuating from 10$ - 15$/room.
If you want to rent a house, there are two gúethouse with the high quality in the center of Binh Lieu town, its facilities are recommended by a lot of tourists: Bich Dao and Thien Nguyen guesthouse. The hotel Binh Lieu, as you know, there is only one is Binh Son hotel.
However, when you come to Binh Lieu, you can choose Thanh homestay, this is the ideal accommodation for backpacking tourists. Because of the large room (can contain 30 - 50 people), equipped with necessary equipment such as wifi, electricity, and water...but room rates are cheap indeed, ranging from 1,3$ to 2,6$ per people per night.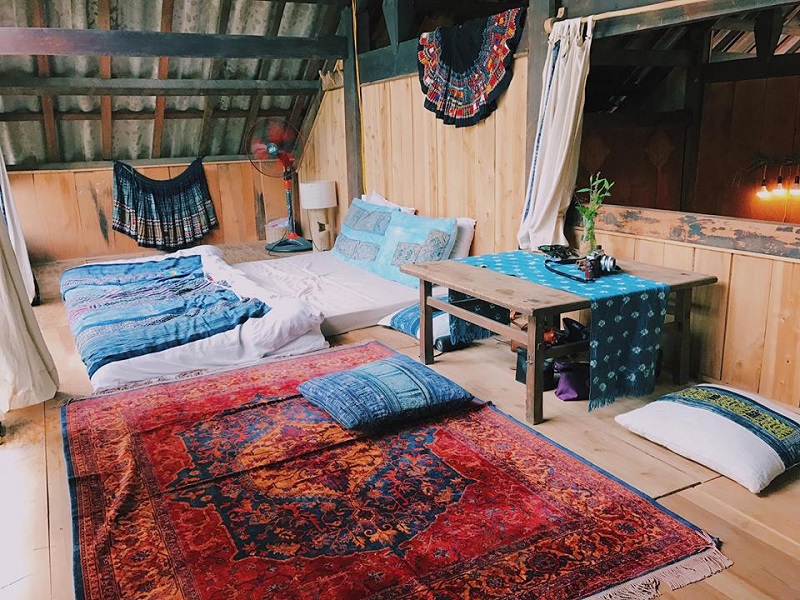 Homestay in Binh Lieu - Quang Ninh
In addition, when you come here you also have the Homestay advice for activities such as camping, ethnic food, rent a motorbike.
Or you can go to Ms. Huong's house, the Tay people to rent a room (which can contain about 10 people per time) at the price 2,2$ per person per night. They also serve the common meal at the price 2,2$ and provide motorbike for rent at the price 8,7$/day.
Besides, if you do not want to stay in motels, hotels, homestay, camping in Binh Lieu is also a good choice. You can bring tents, food, baking, and fire camp utensils camps. However, if you travel with a small group, for your own safety, you should only camp in the center.
What to eat in Binh Lieu?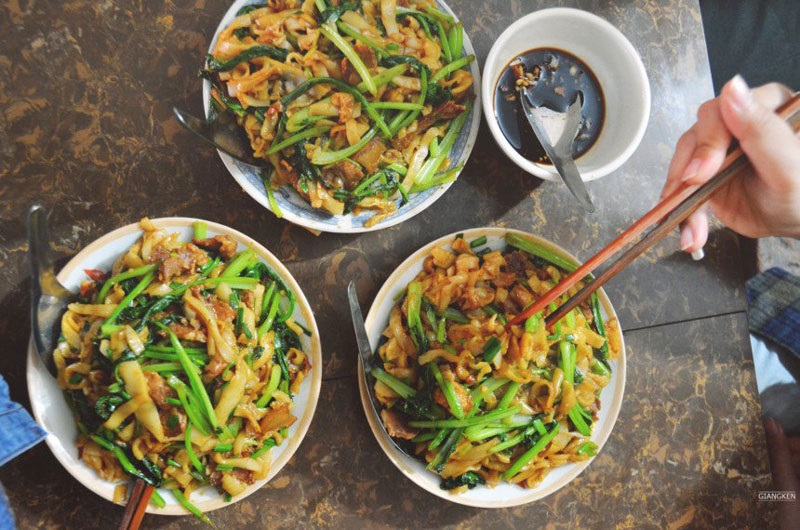 Stir-fried Pho - a worthy speciality of Binh Lieu
1. Binh Lieu specialities
Stir-fried Pho in Binh Lieu is different from Nam Dinh or Hanoi. High-quality thick noodles, made from pure rice of the mountainous villages. When stir-fried, noodles are combined with the mountain vegetables and aromatic complex of soy sauce. This is a must try when you arrive here.
Seven colors sticky rice: this is the common specialty of the highlands. In Binh Lieu, sticky rice is not sold regularly at the market but only for special occasions. So, if you want to enjoy the sticky rice, then you have to reserve.
Cake "Cooc mò": This is a typical Tay cake, which translates to "cow horn", which is often performed on special occasions: Lunar New Year, Tet holiday.
Other items such as Binh Lieu dong vermicelli (you can buy as gifts), grilled chicken, grilled spring fish, stir-fried bamboo...
2. Binh Lieu food stall, restaurant
Ha Nga Restaurant (located in the center of Binh Lieu town), this restaurant is very expensive so the price is high.
Ha Phung restaurant in Vo Ngai commune which is 3 km away from Binh Lieu. A meal here is about 50,000 VND/person includes dishes such as stir-fried bamboo, boiled chicken, pasted bean, baked steak...In case you order the chicken, the meal price can up to 4,3$.
In addition, you can also find steamed rolled rice pancake, Thai Binh fish soup...in the center of the town. You can go to Binh Lieu Market to buy more food and fruit. Buy gifts such as codonopsis, bath leaf, banana seeds, forest fruits...
---
Address: No. 12, Ha Long Road, Bai Chay Ward, Ha Long City, Quang Ninh Province, Vietnam.
Phone: +84 (0) 203 3 636 555 - Fax: +84 (0) 203 3 833 868
Email: info@wyndhamhalong.com - Reservation: reservation@wyndhamhalong.com