From the past, Halong Bay was praised as "rock wonder in the sky" by the illustrious Vietnamese Confucian scholar, Nguyen Trai. Halong Bay was also recognized as The World Heritage Site by UNESCO in 2004 due to the natural beauty as well as interesting values.
At the top, Halong Bay is imagined as a big watercolour painting with thousands of islets. Some Islets are gather together, some stand separately that make sketch line in the painting of the nature.
1. What to see on visiting Halong Bay
Coming to the UNESCO World Heritage Site, visitors cannot miss the chance to explore islets and swimming in the fresh, clean water.
The foremost island is Co To Island that is well known for coral reefs under the sea. You can try diving or snorkeling to open your view to discover marine life.
Tuan Chau Island is considered as one of the most beautiful one among 1.969 big and small islands in Halong Bay, and the only island having resident, as well. The long sand beach here always attracts visitors to dance, play with the blue water and soft waves,.. Besides, underwater sports, activities on the sea like surfing, kayaking, fishing,.. are also the reason why alot of people chose Tuan Chau Island to visit.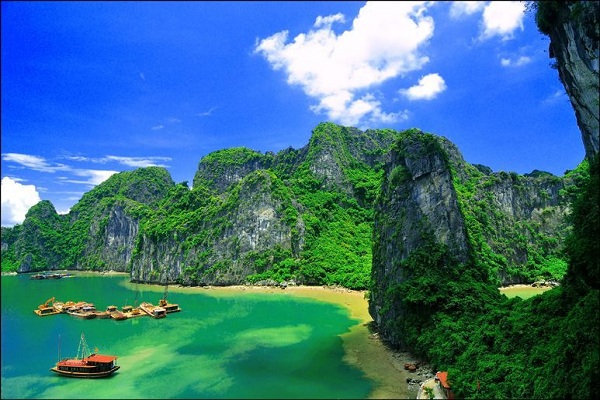 Tuan Chau Island in Halong Bay
The Cave complex is suitable for whom like amazing activities and love discovering new things. Caves in Halong are: Trinh Nu Cave (Virgin Cave), Sung Sot Cave (Amazing Cave), Luon Cave, Thien Cung Cave (Paradise Cave), Bo Nau Cave (Pelican Cave) and so on.
2. What to do in Halong Bay
There are hundreds of activities for you, your friends and family to do. You can kayaking, join underwater sport, diving and snorkeling to find about sea creatures' life and even take part in sea sports.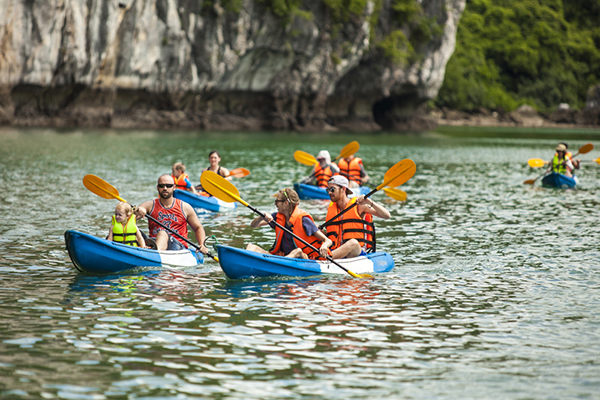 A lot of people love kayaking
Especially, Sun World Halong Complex will bring you the relaxing atmosphere after join activities there. It seems to be the largest area for entertaining and activities in Halong with 214 ha. There are 2 main zones: Activities in coastal zone and on Ba Deo mountain, two of them are linked by the cable system. Visitor coming to Sun World Halong Park will have opportunity to experience 5 areas: Dragon Park, Typhoon water park, Ba Deo amusement park, Sun World beach and Shopping area.
Halong Bay is really the must-visit destination for you and your family. If you are wondering where to go in order to get unforgetable experiences and memories, don't hesitate to choose Halong Bay. You will definitely satisfy with your decision.
Read more: The beauty inside of Halong Bay
Top reasons to fall in love with Halong Bay
------------------------------------------------
Wyndham Legend Halong Hotel
Phone: +84-(0)-203-3636 555
Email: info@wyndhamhalong.com