Wondering about Ha Long trips, which hotel in Baichay is better to stay, what should we do or what should we eat in Ha Long, when is the best time to travel Ha Long…?
Question: I'm planning a trip for my whole family in August but still have a lot of concerns. So, what do I need to know about travel Ha Long, for example, which hotel is good, what to do, what should we eat in Ha Long, or should we just go on a tour?
Answer: To archive a fulfilling trip with your family and friends, knowledge about the destination is necessary. Therefore, to help you make those unforgettable memories in Ha Long, then here is some information and tips that I gladly to share.
When is the best time to travel Ha Long?
Firstly, you need to know that Ha Long is a part of Northen Gulf, which mean that it has 4 individual seasons, specially freezing in Winter (November-March), and it is quite hot in Summer (April-October).
Consiquently, the best time to travel Ha Long in summer is the first or last period (March-May or August-October). By going on suitable time, you can avoid the highest heat of summer either tornaldoes in June or July.
Otherwise, if your trips is in June or July, I suggest you to go on tour, because the travel company can help you to narrows the risk.
What to do in Ha Long?
Ok, after the when to go problem, the next thing intefeers your mind is what do we do in Ha Long right? Then we should start with some simple things that every one are recommending through time.
The most popular destination in Ha Long is Ha Long Bay, which is including a lot of stuffs that can satisfies your group such as excursions the bay by cruise, board or boat as well as discover those magnificent caves, or experience night fishing with the locals who living on those floating villages. Beside of that, swimming in Ha Long bay also an activity that you wouldn't want to missed.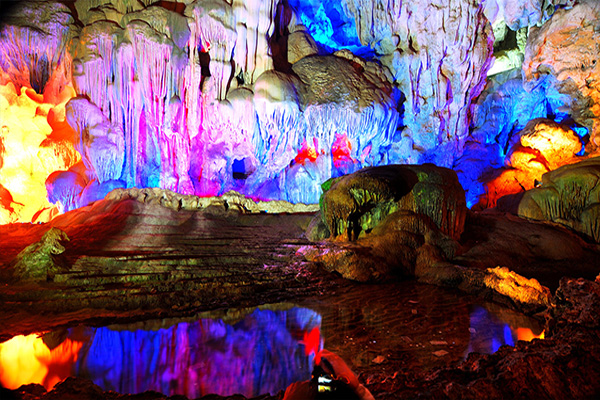 Sung Sot cave in Ha Long bay
There is many other activities on land that you should try, including Dragon park with the roller coaster that you definitely won't want to miss as well as the water park in side, which is a perfect place to stay in these summer days. Beside, if you interest in explore the culture or the local spots, Quang Ninh museum, which is near by Ha Long square, on the coastal line road would be enjoyable.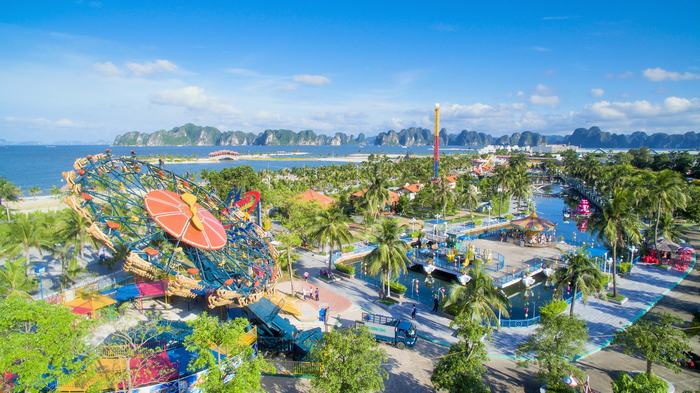 Dragon park view
The best things happen at night time in Ha Long. Nothing more stunning than the view of Ha Long at night on the cable car connects 2 sides Bai Chay bridge, following the free-fee Sun Wheel cabin, every aspects of Ha Long are now capable. Otherwise, if you interested in something that more animated, then the Old town near by the 5 stars hotel chains, right under the bridge with bars, pubs is popular to tourists, or those seafood restaurants on the coastal line road on the other side of the bridge are famous as well. Imagine that you are sitting near by the beach, drinking with your fellas in a summer night, how amazing is that.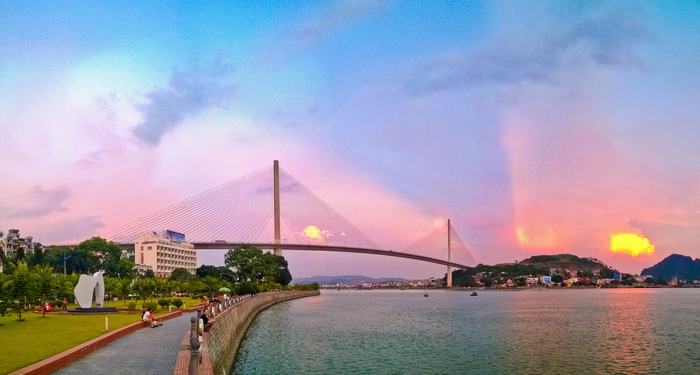 Bai Chay bridge view
And promise, all the thing that I have said, you can barely experiencing on a tour.
Where to stay in Ha Long?
Talking about hotel in Baichay, there are many types with different prices for you to choose. Everything depends on your demands and budget. Bai Chay now have all the hotel that ranked by star (even 5 stars hotel in Baichay is now available) as well as hotels that are not, or motel. The reservations are now easy to make, just a few clicks then everything are on set. The prices fluctuate from 300.000 VND/day to 3.500.000 VND/day depends on the services that the hotel offers.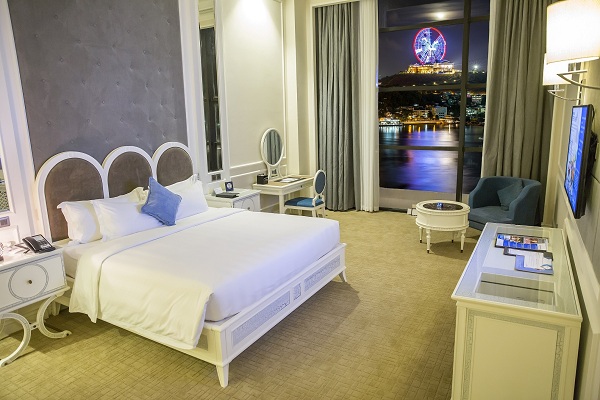 5 stars Wyndhamhalong hotel Executive Deluxe room
Extra information
You can moving around in Ha Long by "xe ôm", taxi, grab is now available, or you can hire a moto bike, bike as well to explore on your own. Sidewalk restaurants are worth to try, but always ask for the price before decide to buy or use anything. Don't throw your rubbish onto coastline, it's hard to clean, there is trash cans around the beach.
Hopefully my sharing might help you out with your decisions. Wish you and your family have a quality vacation and a unforgettable memory about Ha Long.