Possessing unique tourism values that attract the interest of many tourists, Ha Long is chosen as the ideal location for intimate gatherings and grand year-end parties. Wyndham Legend Halong, with its outstanding advantages in event services and conferences, coupled with enticing offers, is poised to become the preferred destination for reputable year-end parties in Ha Long for every business.
I. Banquet hall at Wyndham Legend Halong
Wyndham Legend Halong
boasts a diverse system of event and conference rooms, comprising 7 different categories suitable for various event scales. The banquet rooms are all designed in a luxurious and elegant style, offering panoramic views of the bay. Below are some room categories that cater to the needs of organizing
year-end parties in Ha Long
for companies and businesses.
1. Diamond Ballroom
With a spacious area of up to 1055m2 and a capacity of 700 guests, the Diamond Ballroom is an incredibly suitable choice for businesses to organize large-scale
year-end parties in Ha Long
. The banquet and conference rooms within the Diamond Ballroom category are designed to be interconnected, catering to all purposes of organizing year-end parties for our valued guests. Additionally, the event space here features high ceilings, an above-standard lighting system, and elegant architecture characterized by refined lines and exquisite details.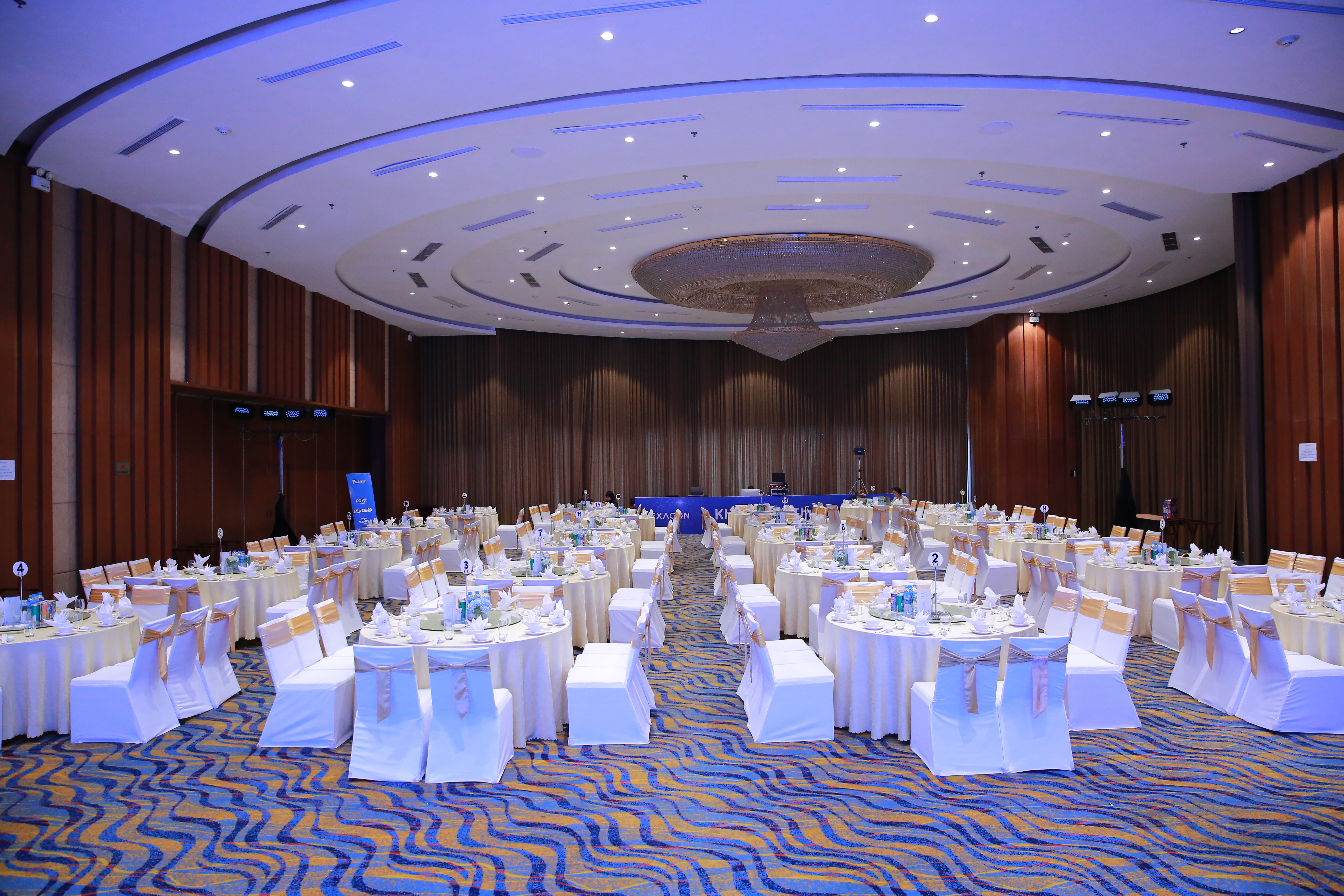 Moreover, the Diamond Ballroom features a spacious lobby area, creating an open and comfortable atmosphere for guests. Consequently, businesses and attendees can enjoy tea breaks before the event in the lobby area when choosing the Diamond Ballroom for
hosting year-end parties in Ha Long
.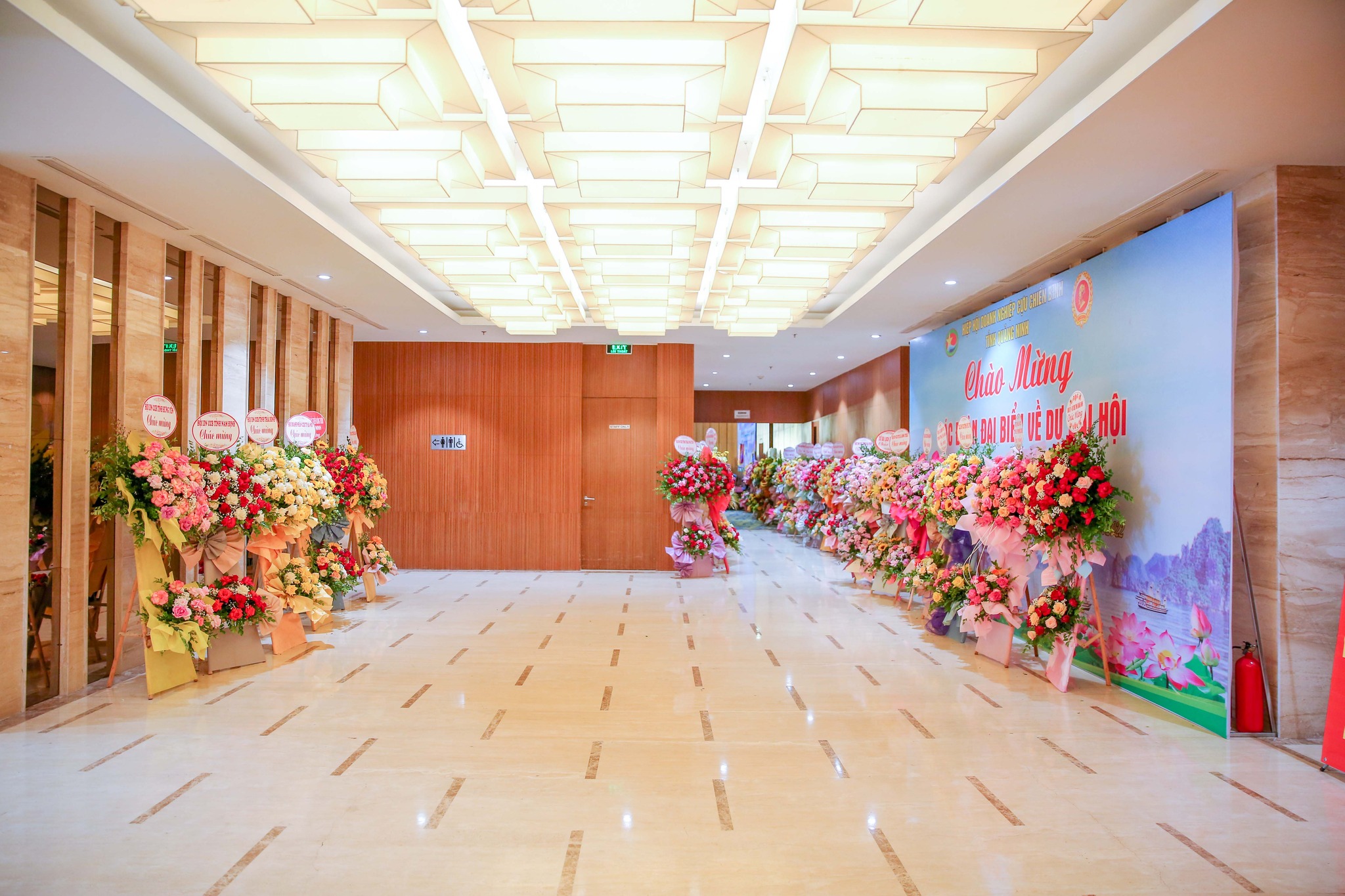 Lobby in the Diamond Ballroom
2. Panorama Function
The Panorama Ballroom is located on the 3rd floor of Wyndham Legend Halong, offering panoramic views of Halong Bay. In addition to its elegant space filled with natural light, the Panorama Ballroom is fully equipped with modern amenities, including a projector screen, a standard sound system, and a large stage, catering to the event needs of businesses and creating impressive and memorable gatherings. The Panorama Ballroom is suitable for medium-sized year-end parties, with a capacity of up to 280 guests.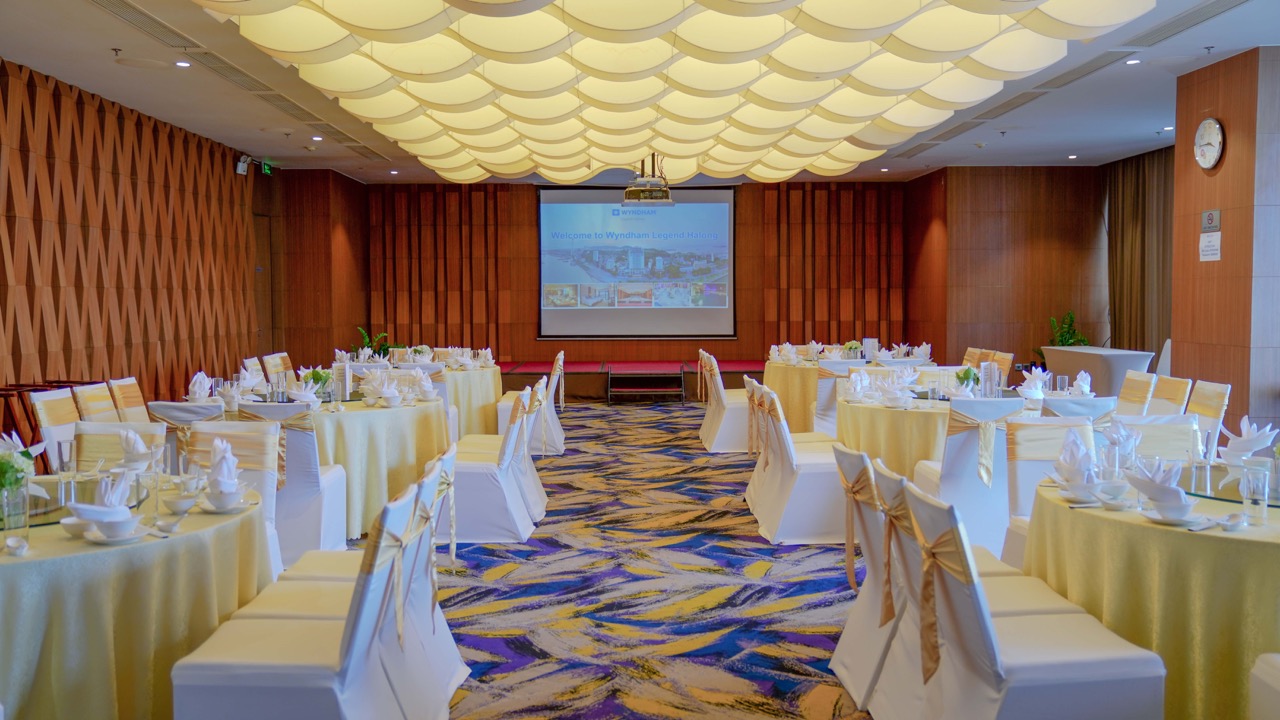 II.
Why should you choose Wyndham Legend Halong as an ideal destination for a year-end party in Ha Long?
Wyndham Legend Halong proudly stands as one of the leading 5-star hotels in Halong, boasting a premier venue for hosting year-end parties. Its excellence is underscored by the following advantages:
1. Beautiful natural scenery
Nestled beside the picturesque Halong Bay,
Wyndham Legend Halong
offers guests a breathtaking panorama, overlooking the breathtaking bay and the Bai Chay bridge. A year-end party here is not merely an event but an extraordinary journey of exploration. What Wyndham Legend Halong brings to your conference or celebration experience is an exquisite space, a diverse culinary palette, and the majestic beauty of the natural wonders of Halong Bay.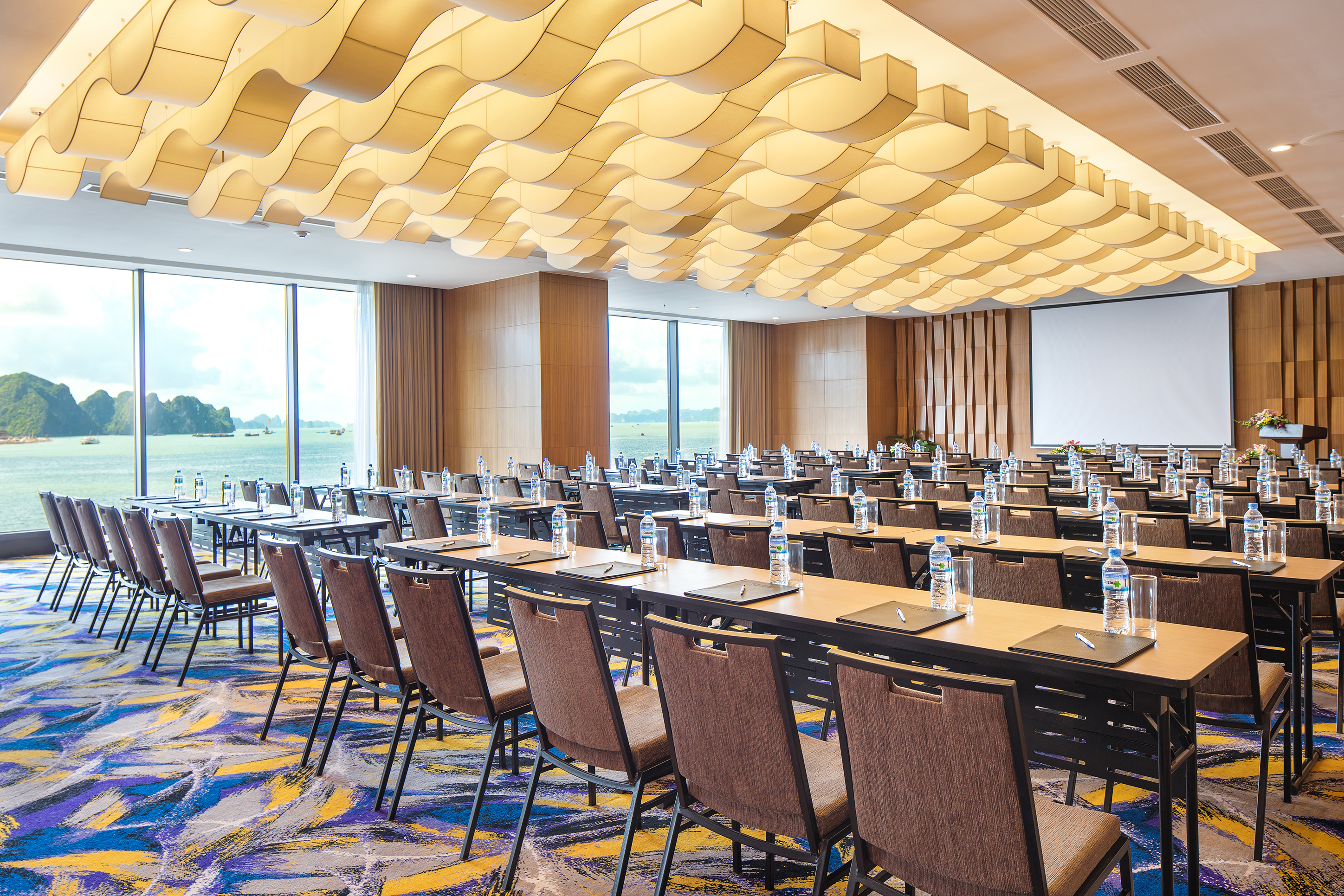 2. Diverse utilities:
Wyndham Legend Halong
is the perfect Ha Long hotel for businesses because we offer a diverse range of services and amenities that help guests save time and effort in organizing year-end parties in Halong. Our comprehensive service package not only provides comfort but also ensures professionalism in every aspect of the organization. Highlighted utilities include:
- State-of-the-art sound and lighting system
- Large LCD screens, create impressive focal points
- Professional performance stage
- Temperature-controlled environment for comfortable ambiance
- Full-service catering with a rich and unique menu
- Professional, caring staff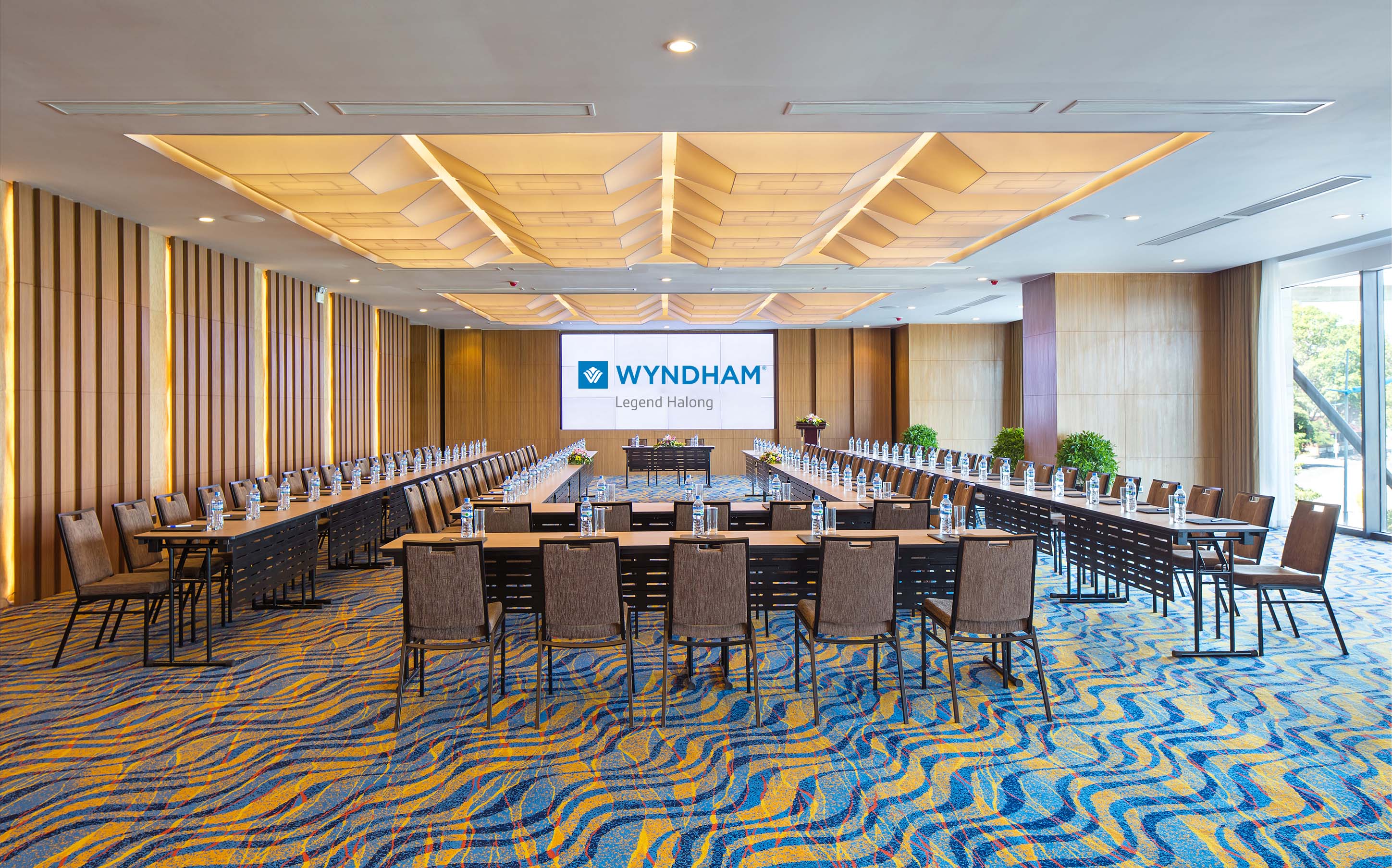 With these exceptional features, Wyndham Legend Halong is dedicated to being the perfect choice for corporate year-end parties, elevating your event to a new level of sophistication.
3. Menus attractive:
In addition to unique event experiences, Wyndham Legend Halong continuously offers richness and diversity through premium experiences. With a professional culinary team, we are confident in delivering exceptional flavors to your table, inspiring from Western to Asian cuisine. Our banquet menu is meticulously crafted with dedication and meticulous preparation, using the finest and freshest ingredients.
Every detail has been carefully considered, from exquisite decorations to the creation of exquisite flavors that enrich the dining experience.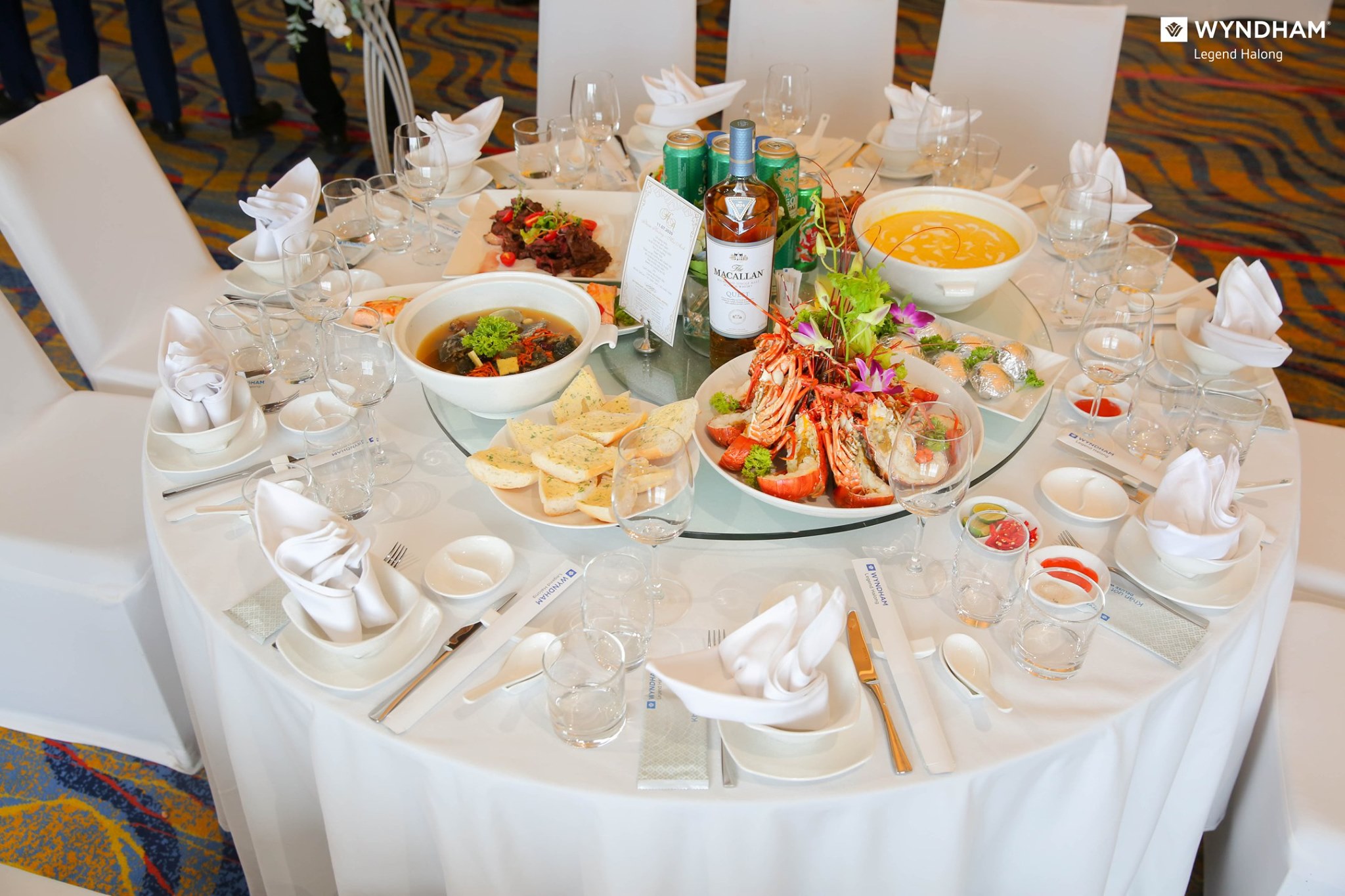 III. Year-end party package at Wyndham Legend Halong
Year-end parties are always an occasion for businesses to reflect on the past year, celebrate accomplishments, and welcome new challenges in the upcoming year. However, to organize a successful and impressive party, businesses need to plan meticulously. Understanding this,
Wyndham Legend Halong
offers two convenient all-inclusive year-end party packages for businesses:
- Package 1:
600,000 VND nett/guest
– Applicable for groups of 30 guests and above.
- Package 2:
700,000 VND nett/guest
– Applicable for groups of 50 guests and above.
- Set menu with 10 courses.
- Complimentary welcome drinks.
- One free drink (soft drink/ domestic beer) per guest.
- Karaoke system (excluding lighting).
- Free use of screen and projector.
- Stage and podium.
- Free for children under 6 years old. 50% off for children from 6 to 11 years old.
- Free sound and lighting for groups of 50 guests and above.
- Applicable for groups of 30 guests and above.
- Valid from October 1st, 2023, to February 28th, 2024.
With its luxurious event space and unique seaside setting, Wyndham Legend Halong Hotel is undeniably the ideal choice for year-end parties or any important corporate events in Halong.
If you are planning a
year-end party
at the
Halong hotel
, contact
Wyndham Legend Halong
through the hotline + (84) 898 255 628 or send a direct message via the Fanpage for detailed party reservations and the attractive current offers at the hotel.
Location:
No. 12, Ha Long Street, Bai Chay Ward, Ha Long City, Quang Ninh Province
Telephone:
+(84) 2033 636 666/
Hotline:
+ (84) 898 255 628