Tour operators have been given three designs to choose from to replace their old wooden junks with metal cruisers.
The scenery across Vietnam's world-famous Ha Long Bay is set to change following a decision to scrap all wooden junks that currently cruise the bay's turquoise waters.Tour operators have been given three award-winning designs to choose from to build new steel-hulled vessels.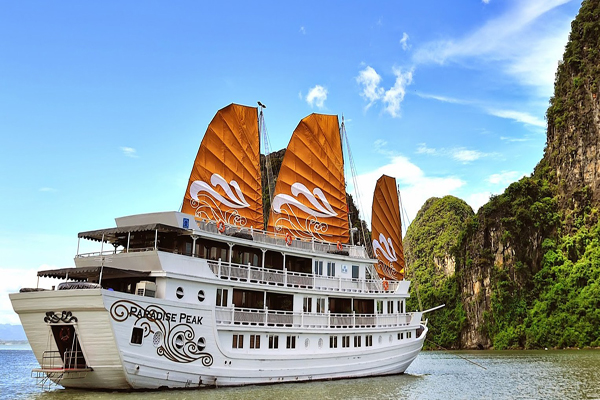 A total of 14 designs were rated for technical safety environmental protection and compatibility with the scenery and local port. The winner was designed by the Viet Han Ship Design and Engineering Services JSC. Second place went to the Vietnam Marine Technology Development and Technical Investment JSC, while third spot went to the Shipbuilding Science and Technology Institute.
There are currently 151 companies operating on the bay, and they have been instructed to contact the designers. No deadline has been announced, and neither have any cost estimates.
Ha Long Bay was named a UNESCO World Heritage Site in 1994, and is one of the most popular tourist destinations in Vietnam. Quang Ninh received 8.3 million visitors last year, up 7 percent from 2015, including 3.5 million foreigners, according to official data.
However, safety remains a concern among tourists on cruise trips. A number of fires have been reported in recent years, including the latest incident in January when a ship carrying 14 foreigners went up in flames. Another ship also caught fire in March while it was docked for the night. And fires aren't the only problem. In February, 47 tourists, including 45 foreigners, were forced to abandon ship after the boat they were on sprung a leak and sank.
The province has announced plans to replace all wooden boats and ships with metal vessels over the next five years.
Last year, they also considered banning cruise ships from staying overnight on the bay for safety reasons.
----------------------
Wyndham Legend Halong Hotel
Phone: +84-(0)-203-3636 555
Email: info@wyndhamhalong.com
Địa chỉ:12 Hạ Long, Bãi Cháy, Thành phố Hạ Long, Quảng Ninh