Even though travel Halong now a day is not something nameless to the tourist, but one of the issues that obstruct them the most is how to get to Ha Long. Here is the transportation to Ha Long handbook, which will give you all the information that you need to solve this problem.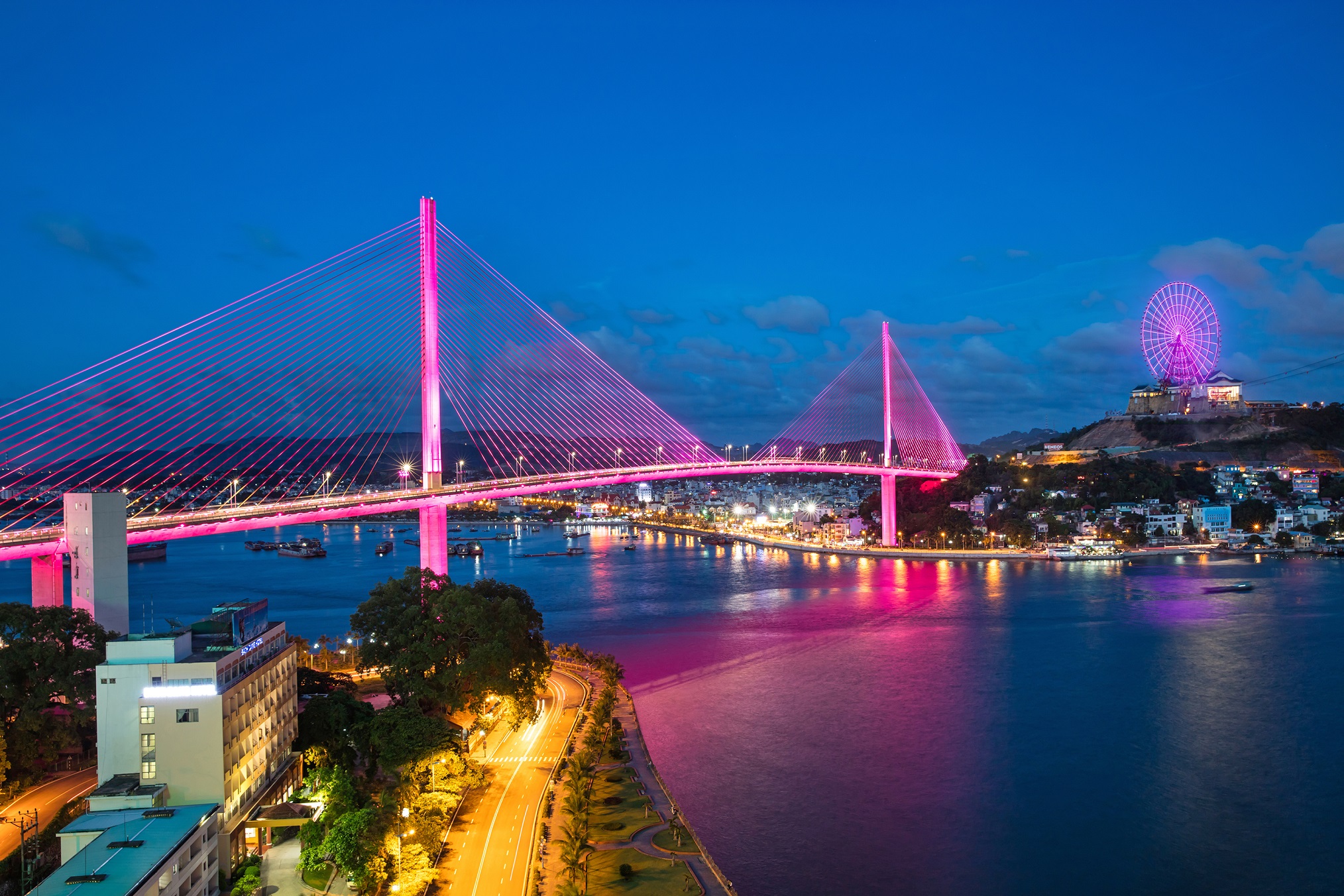 Ha Long - one of the most beautiful cities in the world
Since the Ha Noi – Hai Phong – Quang Ninh highway have been putted into operation in the 2/9 lately, it is now more convenient to get to Ha Long from Ha Noi. Therefore you now have more choices to choose the way to arrive to Ha Long, depend on your favorite. But here is the main transportations to Ha Long that have been approved by the passengers through years.
Arrive to Ha Long by coach
The popular and most economical way to get to Ha Long from Ha Noi is by coach, which you can easily to catch up at any bus station of Ha Noi. Just like anywhere else in the world, coach is the cheapest transportation sort to moving around. This option might allow you to learn more about the daily life of the Vietnamese as long as you can understand what are they talking about or if lucky enough, there is someone who can speak English who sitting next to you and willing to talk. However, like any public transportation in Vietnam, coach has many disadvantages. This makes foreign visitors less selective.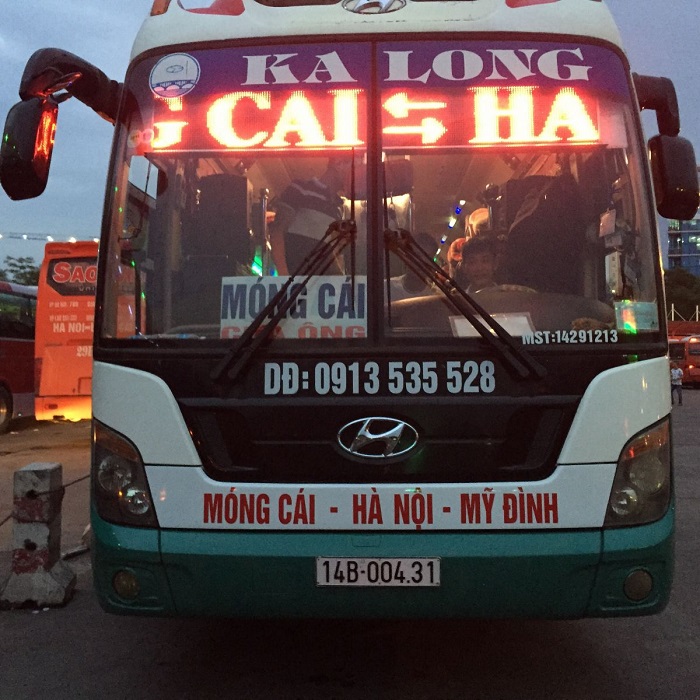 Moving to Ha Long by coach
The coaches depart from Luong Yen, My Dinh or Gia Lam Bus Station and stop at Bai Chay Bus Station, Ha Long City.
The price is pretty low - about 100,000 - 130,000 VND / person
Travel time: 4 hours
Main route: Ha Noi - Hai Duong - Hai Phong - Bai Chay (Ha Long)
Travel by coach is a unique way to experience the local culture. However, foreign tourists may find it difficult to fully understand the customs of Vietnamese on the coach or exchange information with the driver. Also, if the coach cause any incident or missed any stop, you will probably lose. For visitors who only have one day, this is not the best option. Due to leaving Ha Long Bay early to move, your journey will not be complete. For those who have a relaxed time schedule, there is nothing to be disturbed about when choosing this transportation sort.
Arrive to Ha Long by travel bus/limousine
Opposites the coach, travel bus brings a lot more convenience and comfort for the passenger. Since this type of transportation belong to the travel agency, it aims on serving the Western tourists. Tour operators will add the shuttle cars for passengers in the service that they provide, make it easier to travel and less moving time.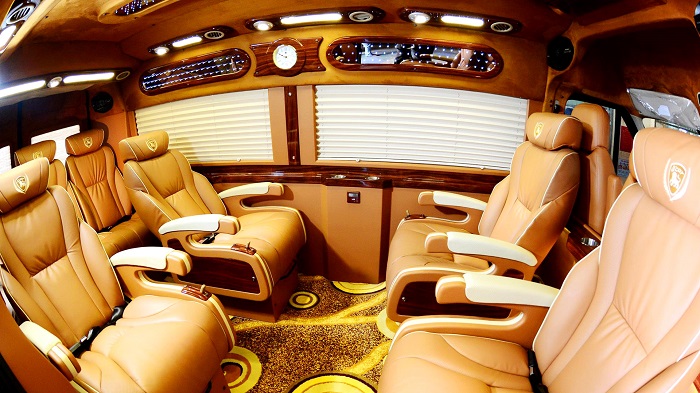 Limousine serving on the Ha Noi - Ha Long route
The bus route starts from the Old Quarter – the central of Hanoi. Guests can easily take a taxi to the point of concentration. There are also high quality bus companies such as Hoang Long Express. Which has lots of cars depart in a day after every 15 minutes.
This helps to make travel easier for small group tourists. However, the time for you to travel from Ha Noi to Ha Long approximate to the coach. It costs you about 4 hours for this trip.
If your holiday lasts several days, the travel bus is a thrifty and flexible option. However, if you only have one day, make sure that you will leave before 8am. This ensures you have enough time to admire Ha Long Bay before returning to Hanoi.
Arrive to Ha Long by motorbike
Look like an uncommon option for foreign tourists but motorbike absolutely is the most exciting way to travel for those who enjoy the thrilling of the adventures – which is its advantage that has been claimed by the passenger.
The disadvantage of this transportation sort is the arrival time of this sort is equals to the coach or the travel bus, about 4 hour, but cause more weariness. If your knowledge about the map and the mastering motorbike skill is poor, then it would be much more dangerous to travel around.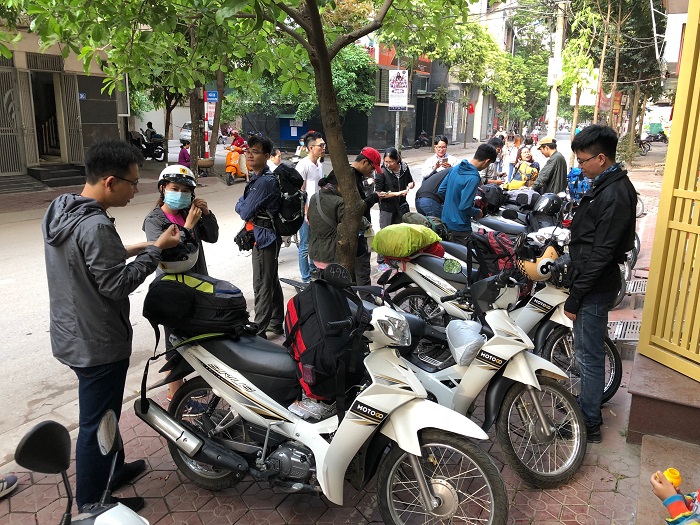 Rent a motorbike to try out our limitation
Arrive to Ha Long by taxi
This is a transportation that easy to go along with, though not the most economical option. Time to move is also about 4 hours. However, renting a taxi or car will bring you a more private space.
This is an option for families who carry a lot of luggage, a group of friends who want to sit comfortably and chat with each other without worrying about their surroundings or those on the go and want to focus on work. Most hotels provide shuttle service by car. Services include car rental to the airport.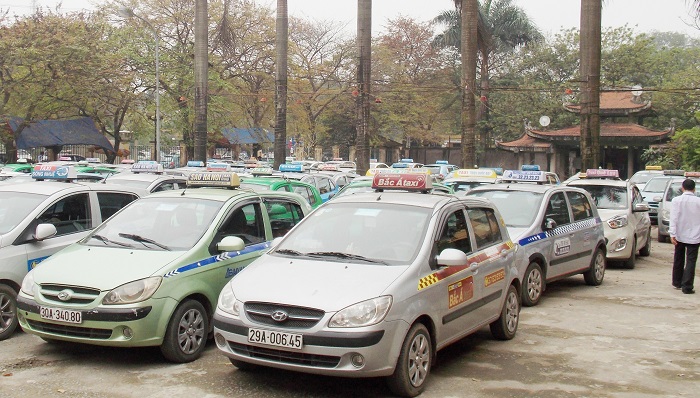 Get to Ha Long by taxi for the privacy
There are many companies willing to help travelers, so you can easily go from Noi Bai airport to Halong, especially for foreign visitors. For more exploration and independence, you can rent a car and experience the scenery of Vietnam yourself. The price for renting a car is about 65 – 95$
Arrive to Ha Long by train
This is another public option used by local people. The train offers passengers the opportunity to watch the beautiful scenery on both sides of the road. However, the train from Hanoi to Ha Long will costs you 7 hours. This is oftenly not the right choice for visitors.
From the train station, visitors will spend more time and money to catch the car moving to the city center. In addition, you will have to wake up earlier if you want to enjoy a full day in Ha Long. Besides, you should also note: the pier is about 5km from the station. So make sure you arrive at the right time.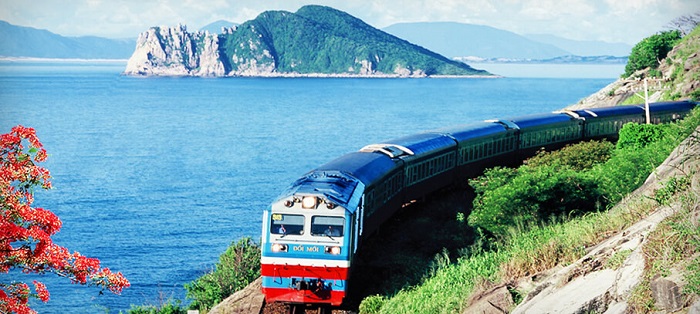 The train offers visitors two options, including "soft chairs" with air conditioning and "hard chairs" at varying rates. However, there are only hard seats on the train from Hanoi to Ha Long.
The train line is designed primarily for local people. For some visitors this is a great opportunity to better understand the lives of the Vietnamese. However, the disadvantage of the train is the time and schedule of departure is not stable.
Arrive to Ha Long by Helicopter
Another risky transportation that tourists can use to move from Hanoi to Ha Long is the helicopter. Quick and thrilling is the feeling of visitors who sitting 45 minutes on the helicopter and watching the scenery of Ha Long Bay below.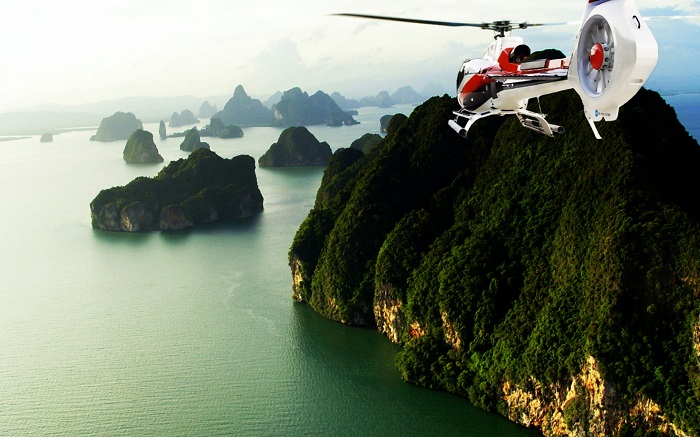 Ha Long's scene from helicopter
Departure from Gia Lam Airport - a small airport owned by the military. Helicopter capacity is 7 people including a pilot and passengers. So it's only suitable for small groups. Many companies combine this service into a tour for passengers to travel to Ha Long Bay or return to Hanoi at a lower price compares to hiring a private helicopter at a cost of thousands of dollars. Despite the ridiculously high cost service, helicopter passengers may still face potential dangers. This is definitely a great option if you can potential finance. But at the current price, helicopters are not the preferred choice for many travelers.
Travel to Ha Long by Seaplane
Seaplane is a luxury airborne vehicle with a reasonable price that you should try. Hai Au Airlines is the only company providing sight-seeing and seaplane services from Hanoi to Halong Bay. Like a helicopter, the itinerary of a 45-minute seaplane, which saves time. So you can enjoy the beautiful Ha Long more than other sorts. Although more expensive than other forms of ground transfer, the cost of a seaplane is much lower than helicopters and is not too high compared to renting a car.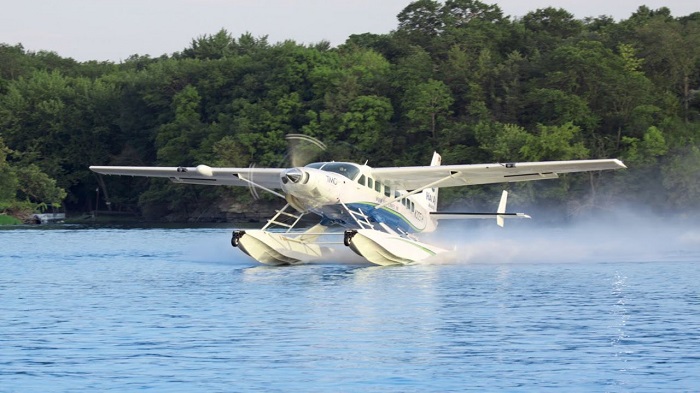 Seaplane seem to be a good way to explore Ha Long Bay from above
Direct flights departing from Noi Bai International Airport to Halong will cost about 275$, providing travelers with the opportunity to enjoy the scenic beauty of the bay below. Hai Au Airlines offers a number of promotional packages combining Halong Bay tour, hotel in Baichay and a scenic flight with seaplane. With these promotional packages, the cost to experience the full beauty of Halong has decreased significantly. For travelers who do not like to travel by air or in bulk groups, it is unlikely that they will choose this form of travel. However, for business people or those who love adventure, seaplane tourism is the best transportation sort to move between Ha Noi and Ha Long.
Read more:
The money and time you spend for the trip would be worthy and transportation definitely is the one that need to be concerned of when planning your trip. From coach, buses, trains to seaplane...there are always plenty of options for you.