We're always looking for more ways to show off our unique personalities, and a wedding is the perfect place to display your individual sense of style. Not to mention how important it is to have good lighting, especially at an outdoor wedding. There are dozens of opportunities at any wedding to do this, of course, and most of them are talked about a lot – except for lighting. Take advantage of this creative outlet by going all out. We've got 14 ideas for how you can let your sense of style,
ahem
, shine at your wedding.
Indoor
Natural lighting is the best, of course, but if you're having an indoor reception and there aren't floor-to-ceiling windows, you may have to compromise and use fun lights and bulbs instead.
Floor lighting
Dim the overhead lights and line the floor with lights. Strip lights or (fake) candles – or a combination of both – will draw guests' gazes to the altar, ensuring their focus stays on the ceremony.
Source: Candles
Arch
A well-lit wreath, arch, or backdrop behind the officiant is an absolutely stunning look. This works at both indoor and outdoor ceremonies, too! For an indoor ceremony, pair this with the floor lighting to not just draw guests' attention, but almost physically pull their eyes to look at the bride and groom. For an outdoor ceremony, a light-filled backdrop is best for evenings or even nights, so you can get the full effect of the glow against the dark sky.
Source: Wreath
Neon
You can find neon signs with wedding and love-related quotes, and you can order personalized neon signs as well. These look so cool above the sweetheart table or as part of the photo booth – but you can also find neon strip lighting. The strip lighting gives you the opportunity to put it anywhere you want, in any shape you want. Form hearts and stick them all over the walls. Wrap it around centerpieces. Line aisleways, doors, bathroom stalls with it. Write the couple's last name across the dance floor. Think about zoo lights during the holidays – there are tons of ways to creatively incorporate strip lights into your wedding. Bonus: neon light-up sunglasses make awesome favors!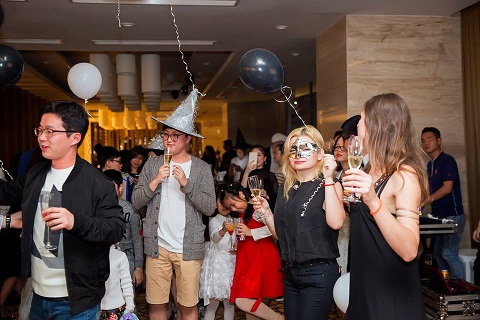 Geometric Chandelier
Geometric shapes and minimalism are still trending for wedding themes, and geometric chandeliers are one amazing component of both of them. Make yours unique by building them yourself! You don't even need a guide or instructions for them; have fun with it. It can be as simple as finding dowel rods in a few different lengths and gluing them together to form a cube, sphere, or any other shape you can come up with. The most difficult part will be how to attach it. Depending on the venue's current lights, you may be able to build the chandelier around the existing light, but otherwise you'll need to find a hook to hold your chandelier in place.
Source: Chandelier
Watercolor Lights
"Uplighting" is a lighting effect created by placing a few light fixtures on the floor or ground and directing them at the ceiling in order to produce a particular ambiance. To get a stunning watercolor look, group bunches of blue, purple, and pink lights so they overlap and blend, even more so than in the picture below. Source: Uplighting
Paper lanterns
Shake things up a bit by bringing paper lanterns inside! You can even find biodegradable lanterns, to help reduce your wedding's environmental impact. For a bold look, hang them all in one clump, at varying heights, in different shades of the same color with one other bright color mixed in sparingly.
Source: Lanterns
Projector
So this isn't a light per se, but you can create a beautiful scene with one. Project a pattern onto a wall, a phrase onto the ceiling, or a monogram onto the floor. You can change the entire mood of the wedding with a projector just by changing the colors, shapes, or movement.
Source: Walls, Names
Outdoor
Tired of string lights? We are. We get why so many people love them: they give any space a fairy tale feel, they're easy, and they're inexpensive, but they're so common. We've found some better ideas to get you out of that string light rut and — who knows – maybe starting a trend of your own. Also, take a look at your venue and think about places that will be difficult to walk through after dark, or areas you want to highlight, like the dance floor, sweetheart table, and even the bathrooms.
Marquee Signs
Feel like a star with your initials in lights. Lean them against the cake table, prop them up on the gift table, or hang them behind the bridal party's table.
Source: LOVE
Glowing Furniture
Surprise your guests by waiting until the sun has set to turn on these super cool tables. The modern shape of the table combined with the LED lights are sure to delight your guests.
Source: Bar, Seating
Lanterns
The perfect way to have candles outdoors and the best alternative to string lights. Set them on the ground to form a perimeter, hang them on a rope as a fence, set them on tables, or hang them from trees – pretty much anywhere a string of lights can go, a lantern or string of lanterns can take its place. Different types of lanterns, of course, will go with different themes. For example, these lanterns, with small pebbles in the bottom to hold the candle in place and weigh them down, are elegant and simple, perfect for a more formal wedding. The mason jar lanterns, on the other hand, are "country chic" embodied.
Source: Lantern, Jar
Glowing Trees
If your venue is full of trees, you can make a truly incredible but subtle light canopy by placing lights throughout the branches. By strategically placing the bulbs behind leaves, you'll get a softer, green-tinged glow from them, rather than bright lights like in the picture below.
Source: Tree Lights
Statement Chandeliers
Like the paper lanterns, flip things around by taking the indoors outside. Hang palace-worthy chandeliers to keep the bridal table illuminated, or check out these impressive plant chandeliers.
Source: Sweetheart Table, Plant Chandeliers
Light-up Dance Floor
Give guests an extra incentive to shake their tail feathers with a light up dance floor. Whether you pick a starry pattern or a color-changing LED, everyone will love it. You may also entice your more reserved guests onto the dance floor – overhead lights put everyone on display, but floor lights are just enough for the dancers to see, which makes it a safe place for the shy guests.