If you are searching for an ideal location to organize a wedding party in Halong, Wyndham Legend Halong is undoubtedly an outstanding choice. With its splendid location in Halong Bay, this hotel offers a range of undeniable advantages.
I. Criteria for choosing the perfect wedding venue
1. Banquet room hall
One of the top priorities for couples' choice of a wedding venue is a spacious banquet hall. This ensures that your guests can enjoy the celebration in comfort, with plenty of room to move around. The generous banquet spaces at Wyndham Legend Halong offer not only ample room but also a convenient layout for interactive activities and guest interactions. If you choose to have your wedding in Halong, prefer than banquet halls that can accommodate your guest number.
The wedding room space is large
2. Attractive wedding menu
Food is a centerpiece of any celebration, and it adds a touch of sophistication to your wedding. The menu should be not only delectable and appetizing but also artistically designed to satisfy both the palate and the eye. When considering a wedding venue in Halong, it is essential to ensure that every dish is carefully curated, nutritionally balanced, and a culinary masterpiece. Specifically, at Wyndham Legend Halong, the wedding menu includes regional specialties such as Ha Long squid rolls, steamed Ha Long clams, and crab rolls.
Premium party menu
3. Modern and high-quality equipment
In the process of selecting a wedding venue, one critical factor not to overlook is the sound and lighting equipment. This significantly influences the atmosphere and overall experience of your celebration. State-of-the-art sound and lighting systems play a vital role in creating a warm, romantic, and engaging ambiance for your wedding day.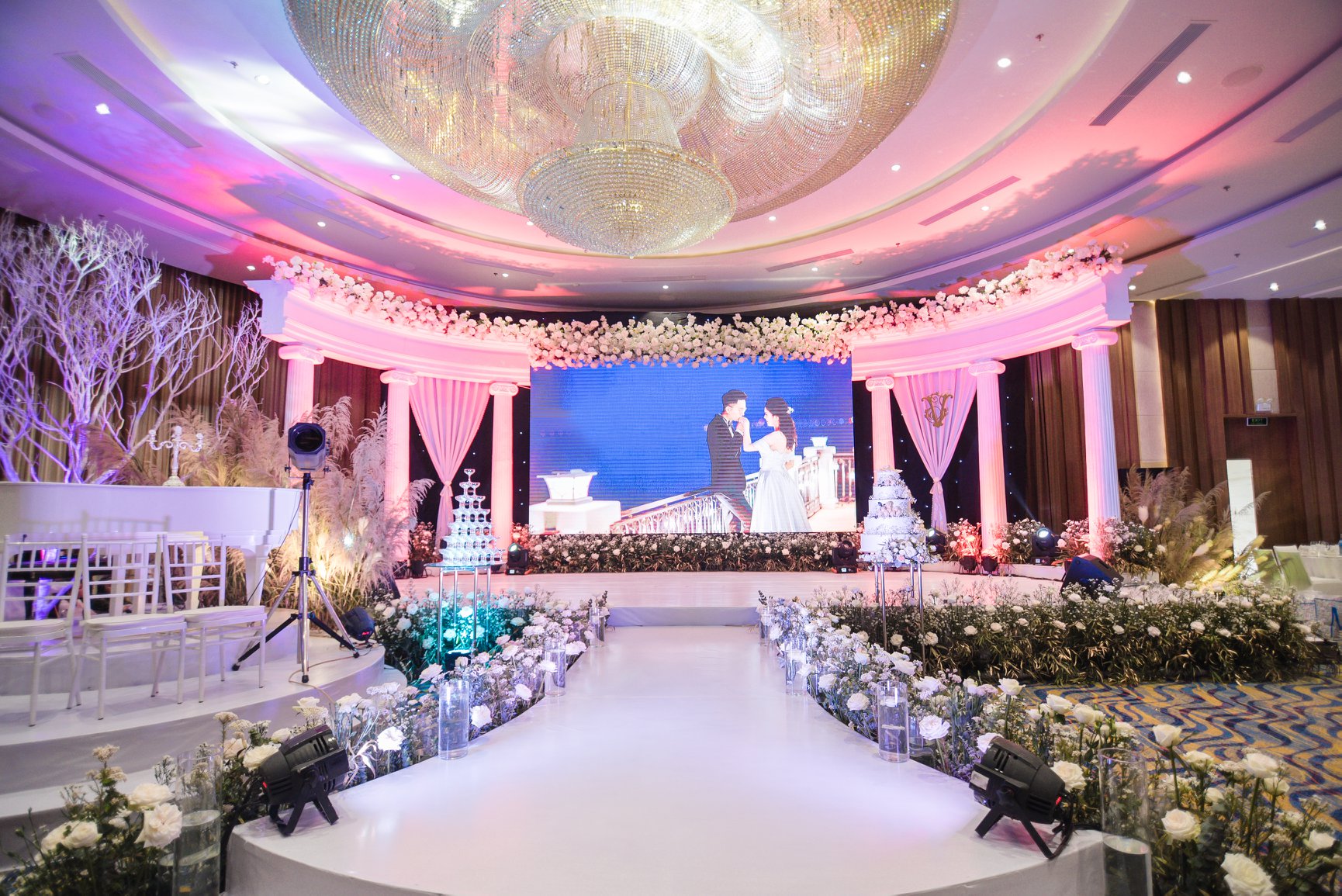 Modern LED lighting and sound system
Gentle lighting and harmonious sound create a romantic ambiance and a balanced atmosphere for wedding ceremonies. In particular, high-quality sound can convey voices and music clearly, making it easy for everyone to immerse themselves in the ceremony and musical performances.
II. Advantages when organizing a wedding at Wyndham Legend Halong
1. Wedding space besides the Ha Long bay, Bai Chay bridge
Wyndham Legend Halong is located on the shores of Halong Bay, one of the world's most stunning natural wonders, and close to the popular Bai Chay Bridge. This unique location sets the stage for a beautiful background for your wedding, with the shimmering blue waters creating a romantic and intimate atmosphere for your ceremony.

The space has a panoramic view of Ha Long Bay and Bai Chay Bridge
2. Various types of banquet rooms
The banquet rooms at Wyndham Legend Halong offer ample capacity, accommodating up to 700 guests for large-scale weddings. However, alongside these, Wyndham Legend Halong also provides smaller banquet rooms suitable for intimate and private wedding receptions. Most of these rooms are adorned with elegant chandeliers, adding a touch of warmth and romance to the wedding ambiance.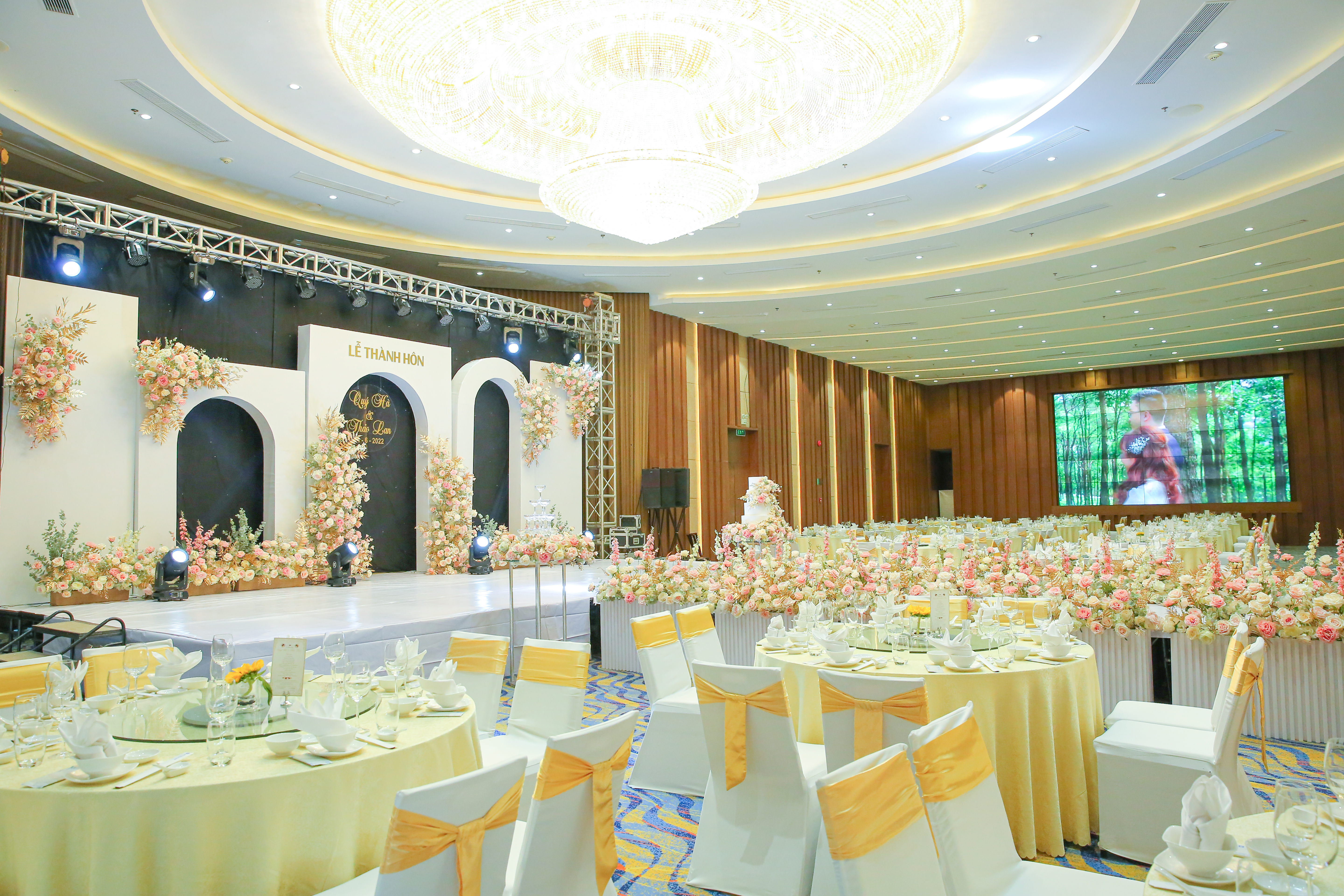 Banquet room with large capacity
3. Full wedding party service
Wyndham Legend Halong can ensure that every detail of your wedding day unfolds perfectly. Hosting your wedding in Halong Bay at this hotel not only meets all your requirements but also ensures that everything runs smoothly and according to plan. The all-inclusive wedding package at Wyndham Legend Halong includes the decoration of the entire wedding space, such as the stage, wedding arch, reception table, and dining tables, creating a glamorous and synchronized style. Additionally, the hotel provides other amenities such as a wedding cake for the cake-cutting ceremony, a champagne tower, and tea for the reception.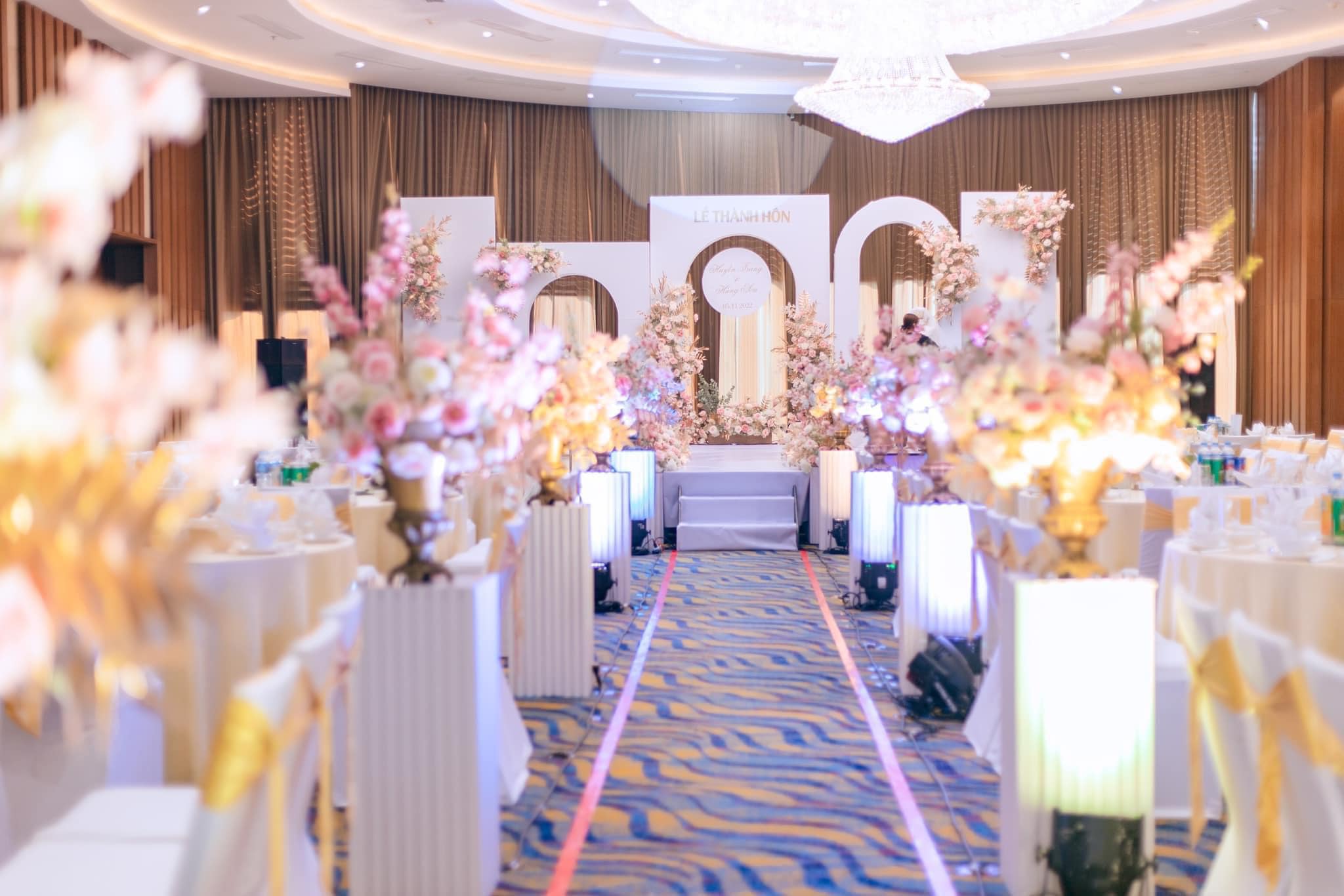 Sparkling wedding hall decoration
Their professional staff will work with you to decorate the space, select delicious menus, and support every aspect of your celebration. You can enjoy your wedding day without worrying because, at Wyndham Legend Halong, everything is considered meticulously and professionally.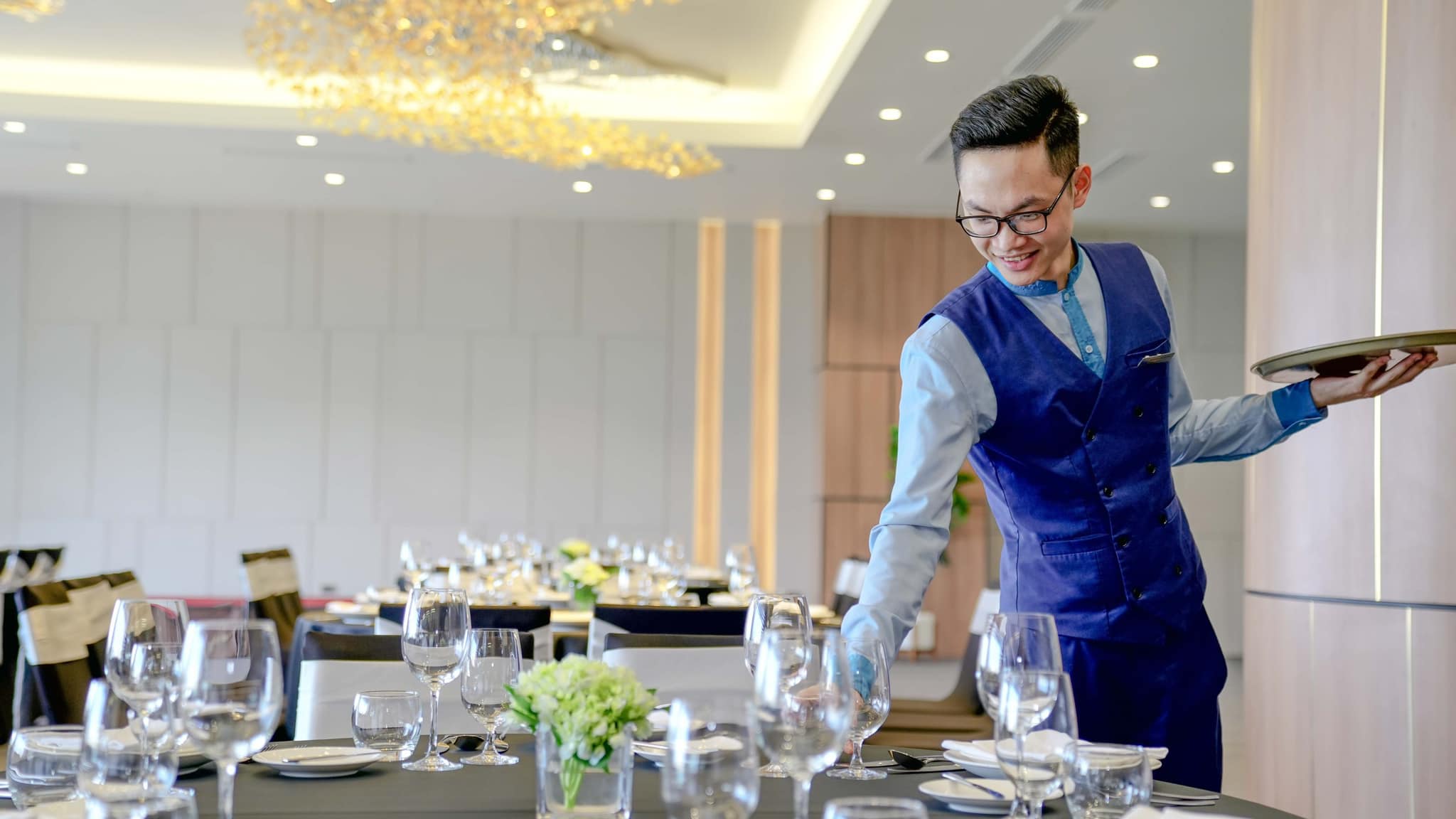 Professional staff
4. Wedding photography space at the hotel
Wyndham Legend Halong is not only an excellent venue for a perfect wedding but also an ideal place to preserve beautiful moments from your wedding day. With a wedding venue in Halong, you will not find such a luxurious yet unique setting for your photographs.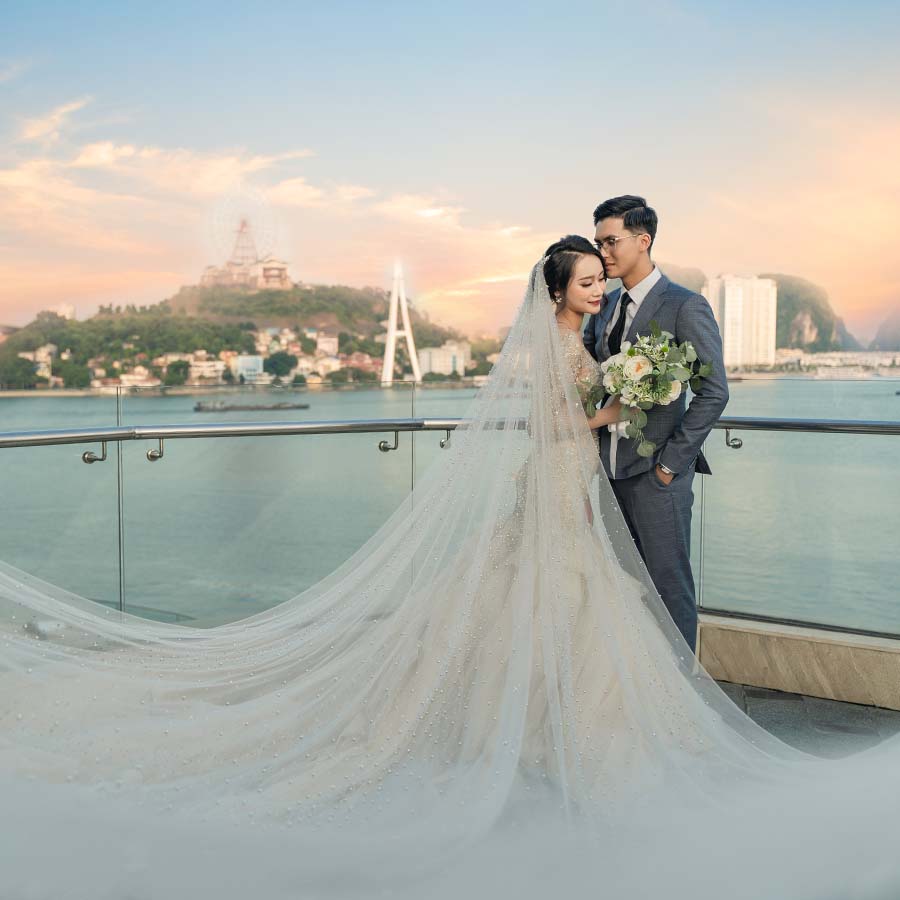 Wedding photography space in the hotel
The wedding photography spaces offer a beautiful view of Halong Bay, with the uplifting sun and the azure sea in the background. You and your loved one will have the opportunity to capture romantic and unique moments amid the majestic natural surroundings. Additionally, the hotel's architecture and decor create impressive photography spots with their vast and elegant space.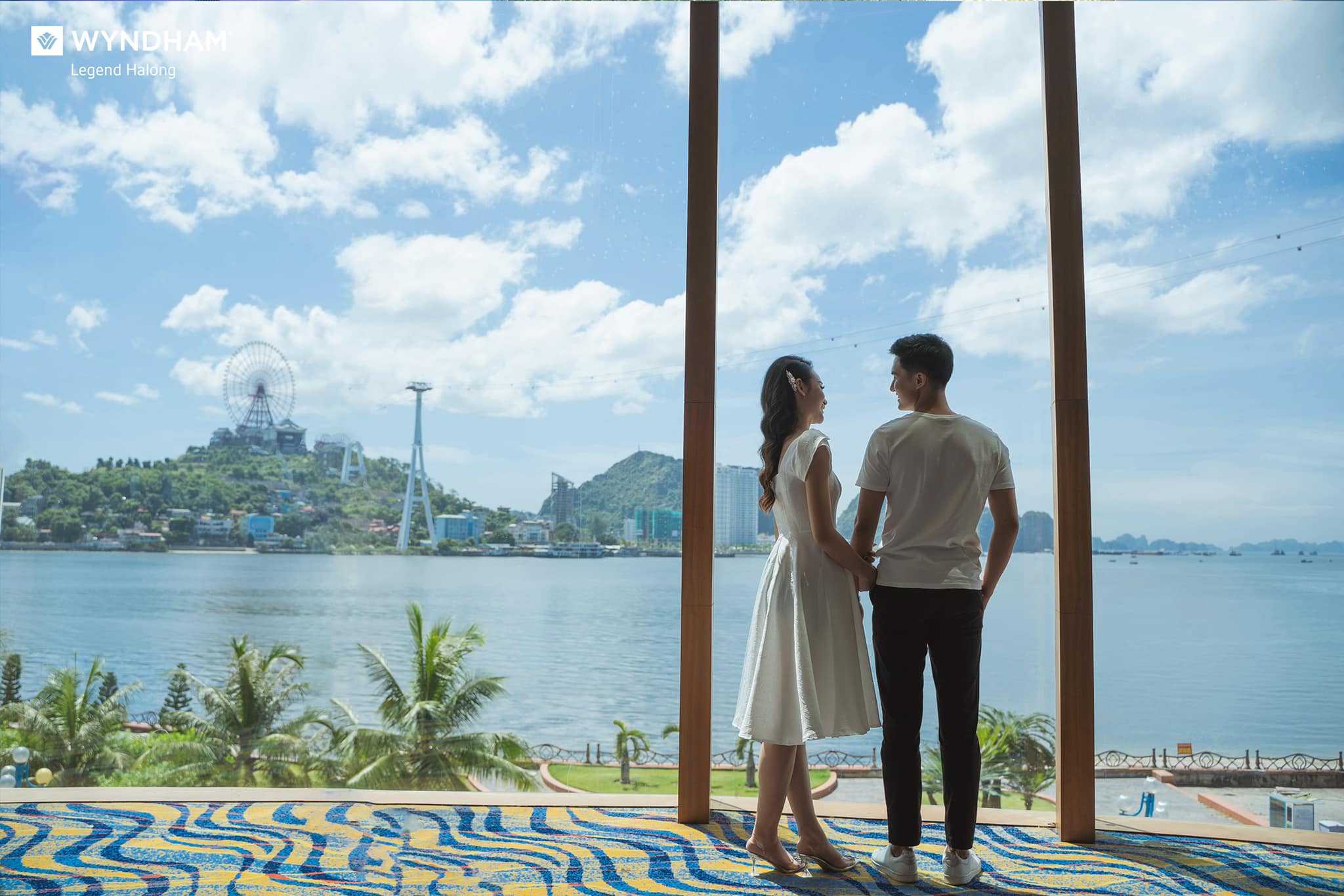 Outdoor wedding photography space
III. Attractive wedding package deals at Wyndham Legend Halong
In addition to the outstanding features of the banquet hall, Wyndham Legend Halong also offers exclusive packages for wedding celebrations with special deals. Throughout this romantic wedding season, Wyndham Legend Halong has launched an all-inclusive wedding package with prices starting at only VND 600,000/ guest. This package includes:
Complete wedding decoration with a beautiful stage, wedding gate, reception table, and exquisite banquet table setup

Elegant wedding banquet space

A diverse wedding menu with a pre-wedding food-tasting

Complimentary room upgrade for the honeymoon couple

Special room rates for the families of the couples

Complimentary 20% discount voucher for accommodation and dining services at Blue Bay restaurant

Complimentary 16-seater shuttle bus service on wedding day (2-way)
(Note: Applicable for bookings with a guest count of 400 and above)
Do not miss out on the opportunity to celebrate your wedding in grand style at Wyndham Legend Halong, where you can enjoy the magnificent banquet hall with the top view of Halong Bay and Bai Chay Bridge. Book now via hotline + 84.898.255.628 or send a direct message through our Fanpage for the best advice and support from Wyndham Legend Halong.
Contact Information:
Wyndham Legend Halong
Address: 12 Ha Long Street, Bai Chay Ward, Ha Long City, Quang Ninh Province
Tel: +(84) 2033 636 555/ Hotline: +(84) 898 255 628
Email: info@wyndhamhalong.com, sales-co2@wyndhamhalong.com\