Looking for a beautiful beach in Ha Long for upcoming trip, wondering which one is better, the transport and hotel in Baichay? Here is some regular knowledge that is handed recently about ranking Ha Long beaches, the transport information to get to Ha Long, hotel in Baichay to stay. Let's check it out
1. Baichay's most beautiful beaches
Being a nature masterpiece, Ha Long owning those beaches which symbolize for Northern Viet Nam will give you the memorable experiences.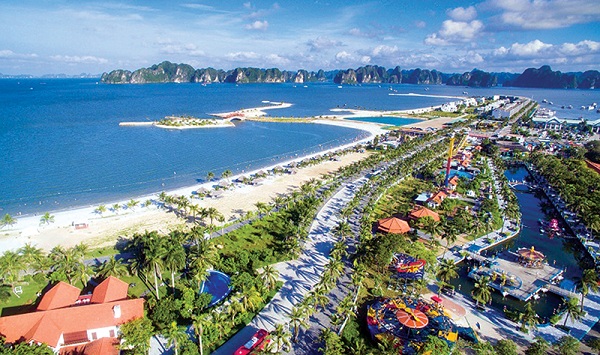 Tuan Chau beach (an artificial beach in Ha Long which located in the Tuan Chau resort and has 2 km long sandy coastal path)
If you are interested in those beaches that are still pristine, haven't polluted, then Ngoc Vung would be the ideal beach that you are looking for.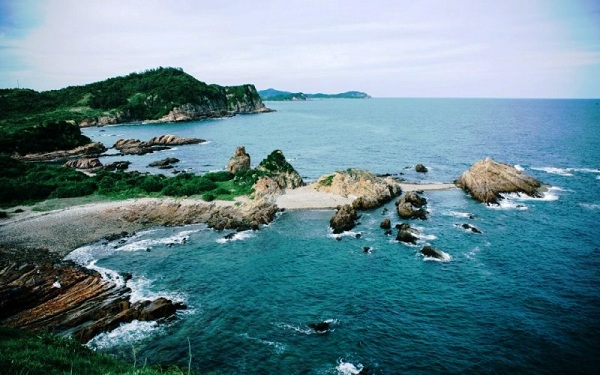 Ngoc Vung beach - Baichay
Otherwise, if diverse activities are your concern, then Ha Long beach, which integrates many games would be worth to try.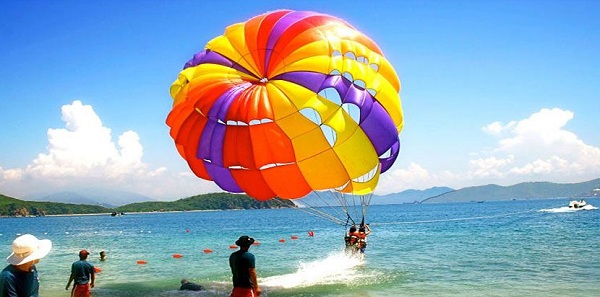 Ha Long beach with many activities
2. How to arrive at Ha Long?
From Ha Noi, there are 3 main transport sorts that are chosen by the majority of tourists:
Rented motorbike: Tourists that want to travel on their own, or for the convenient before reached Ha Long might give a thought on renting a motorbike after attended in Ha Noi. Renting reservation is now easy to make since it would be done by only a phone call, or you could check out the motorbike at the store. Here is some address in Ha Noi that have motorbike for rent: 63 Nguyễn Khả Trạc, Cầu Giấy; 112 Nguyễn Văn Cừ, Bồ Đề, Long Biên; 24D Tạ Hiện, Hàng Buồm, Hoàn Kiếm. This service costs you 100.000 – 150.000 VNĐ/day and requires a number of deposits depended on the motorbike's type.
Bus/Limousine: This is the most popular way that is chosen by the tourists by its cost and convenience since the only thing you have to do is buy a ticket and wait about 3 hours to be present at Ha Long. By the way, the closest bus station is My Dinh, which is only 25 km away from Noi Bai airport, located in 20 Pham Hung, My Dinh, Tu Liem, Ha Noi and it has Ha Noi – Ha Long buses which depart at every 15 minutes. The ticket price is 100.000 VND/person. If you are offended by crowded, then Limousine would be suitable with only 9 seats, but the price is a little bit higher, about 250.000 – 350.000 VND/person. Here is some limousine house that you can refer: 1.Tam Bao Anh Limousine Hotline: 0961 802 802/ 0336 588 666; 2.Duc Trong Limousine: Hotline: 01658778887/ 01678865678; 3.Phuc Xuyen Limousine Hotline: 02033 827 827; 4. Ha Vy Limousine: Hotline: 0969 255 255/ 0963 385 385
Taxi: If the convenience and privacy are on top of your priory despite the price, then cab trip route Ha Noi - Ha Long wouldn't bad to think about. Its cost is fluctuating from 1.500.000 – 2.000.000 VND/cab for 1 way ticket and 2.200.000 – 2.700.000 for a round-trip ticket. Here is some company that you can check out: 1.Mai Linh: Hotline: 0438 222 666/ 01993 222 666; 2.Taxi Group: Hotline: 0439 262626; 3.Taxi Noi Bai: Hotline: 0438 86 8888/ 0438 86 56 15/ 0438 86 68 82
3. Hotel in Baichay
Last but not least, where to stay in Ha Long? The factor to crack this puzzle is your budget's size, to be honest. Bai Chay resort area combines various types of ranked hotels as well as unranked, therefore, it can satisfy your demands in any level. Here is some address that you can refer to:
Luxury hotel in Baichay:
Wyndham Legend Ha Long (5 stars): Address: 12 Ha Long Street, Bai Chay (nearby Dragon park and Bai Chay bridge, just a few walks away from the beach, therefore its rooms have Bai Chay bridge plus Sun Wheel view) =>BOOK NOW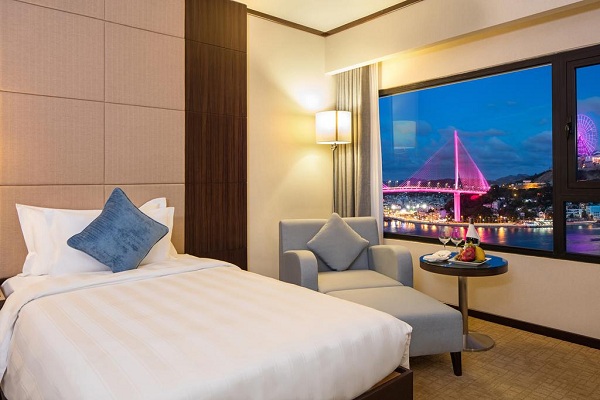 Windham Legend Halong hotel room - Hotel in Baichay
Syrena Cruises: this is a resort sort which is quietly popular recently. Offering tourists the experience of resting on those cruises which are floating on Ha Long Bay.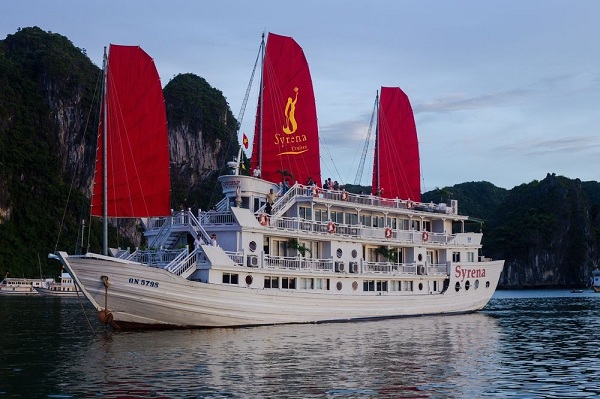 Syrena Cruises - Hotel in Baichay
Mid-range hotel in Baichay:
Minh Thanh hotel: 118 Bai Chay street, Bai Chay
Hoang Anh hotel: 68 Anh Dao Street, Bai Chay
Motel in Baichay:
Hoang Long motel: group 4, zone 5, Bai Chay
Hai Trang motel: 43 Peach Garden (Vuon Dao), Bai Chay
That would be all. Hopefully, my reference can help you out with your upcoming trip to Ha Long. Wish you all the best.