Ha Long Bay is the most attractive tourism attraction in Viet Nam in 2018. Owns the 75-mile-long (120-kilometer) coastline, Ha Long literally translated as the "Bay of Descending Dragons". Since this place has protected as an UNESCO World Heritage site, there is no way that you can explore the whole site by yourself. But here is some recommendations to help you to have a sufficient trip at Ha Long Bay.
Ha Long Bay is features thousands of limestone monoliths rising from the water, natural stalactite caves, picturesque islands and unique fishing villages to explore. But to explore the whole beauty of this location, you must find a tour with an itinerary that includes everything that strikes your tastes
1. Explore Ha Long city
Different than in the past, Ha Long City is now have much more fun and areas for you to enjoy at. Detailedly, Sun World's playground which its name is Ha Long Park includes an Adventure game (Dragon Park), a Water park (Typhoon Water Park) and a Queen cable car which leads to the top of the Ba Deo Hill nearby the Bai Chai bridge, where you can have the panoramic view of the whole city as well as the Bay. It could costs you a whole day to explore all the Park however.
Otherwise, when you are in the area, so you might as well explore the Bai Chay market, which is a fun option where sells everything from fresh produce to cheap clothing. If you are a food addict, there are also many restaurant worth eating at in Bai Chay as Tuan Huong and Linh Dan Restaurant. Both of them are serving the most significant dished of a coastal.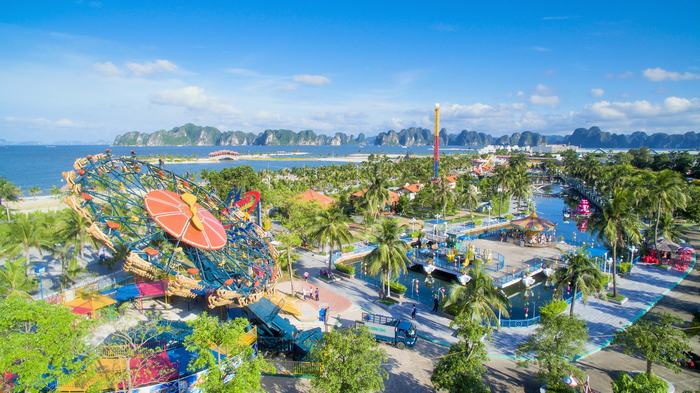 Dragon Park
2. Ha Long beach
At this period of time in the year, practically in August, when the weather is not on the highest peak of summer but in the most comfortable days of the year. Although, at this point of time, the amount of tourist has decreased because most of them have to get back to work and school. Hence, the price of hotels in Bai Chay is much easier to afford, also there is more private and peaceful spaces for you to enjoy. Sunbathing on the sand with the beautiful view of the bay in front of you is an absolute must when you are in Ha Long Bay. Some notable beaches include Tuan Chau, Tiptop, Ba Trai Dao, Ngoc Vung, and Soi Sim. The beaches are found in their respective islands, scattered around the bay. Since you cannot visit most of these on your own, you will have to find either a one-day or multi-day tour that includes beach time and other activities such as kayaking, scuba diving, and visiting caves and floating villages.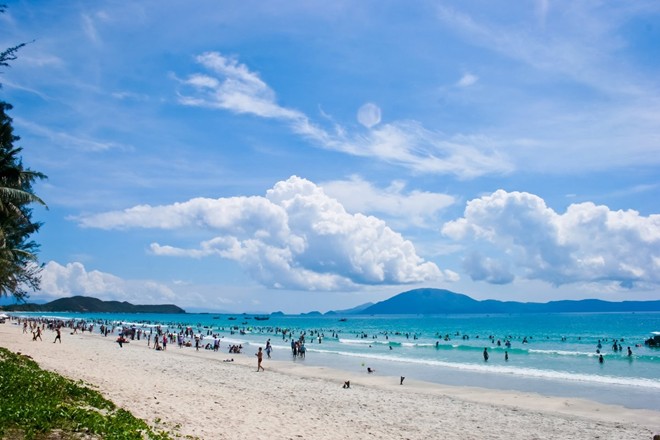 Bai Chay beach
3. Lan Ha Bay and Bai Tu Long Bay tour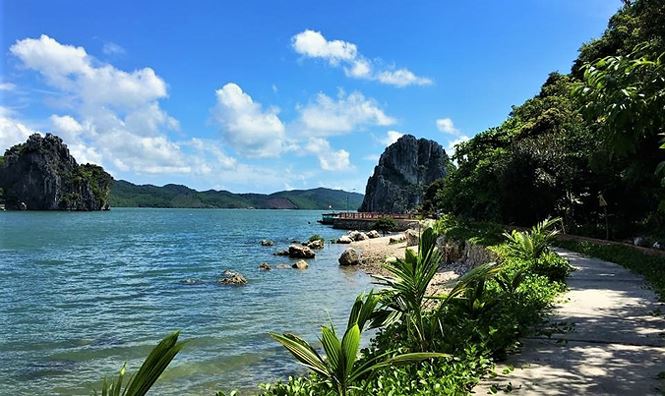 Bai Tu Long Bay coastal line from the fishing village
Located in the individual side of Ha Long, but Lan Ha Bay (on the southwest) and Bai Tu Long Bay (on the northeast) both have similar geological, geographical and cultural characteristics. Small and popular tourist cruises will only take you around the well-known parts of Ha Long Bay. If you want to check out the locations, then spend a little time to investigate the Cruise itinerary before choose one because each cruise will offer you a few different points in their tour.
Read more:
4. Discover grottoes
Hidden in the thousands of jungle-covered peaks of Ha Long Bay are picturesque grottoes and caves of all shapes and sizes. Check out Thien Cung Cave (Heavenly Palace Cave) and Dau Go Cave, which are easily accessed from Tuan Chau Port. Plenty of boats and cruises anchor here, offering cave visits.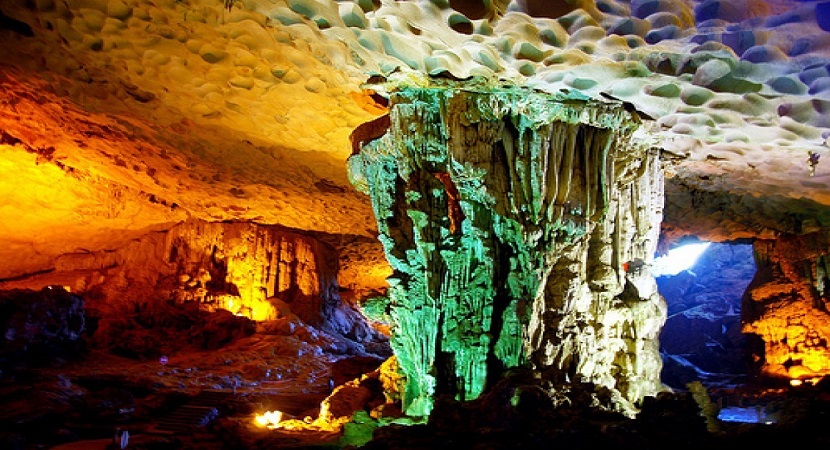 Thien Cung grotto
5. Tour the floating villages
It's exciting to take a two- or three-day-long cruise on the water, travelling from one place to another, but imagine living on a little house built on a boat. Someone who lives on a floating village cooks, washes, hangs out with friends, and even learns or works in this environment. Visiting these villages is a fascinating and humbling experience. Take your time visiting one or more of the four main floating villages in Ha Long Bay: Cua Van, Vung Vieng, Cong Dam and Ba Hang.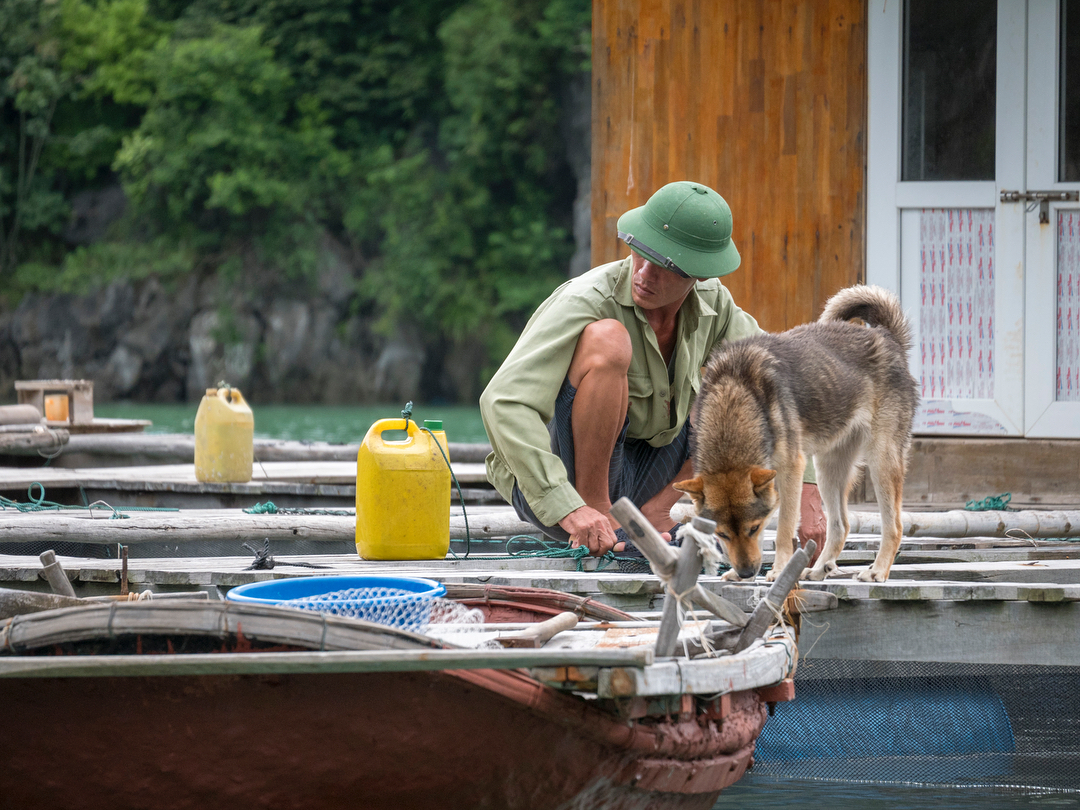 Fishing village in Ha Long Bay
6. Take an excursion to Cat Ba Island
The Cat Ba Archipelago with 367 islands, makes up most of the south of the bay. Within these islands, you'll find Cat Ba Island, the biggest of all, which has some impressive natural beauty. It's also home to the Cat Ba National Park, which is perfect for trekking and climbing. The island is best explored by bicycle or foot, and if you want to partake in the more adventurous activities, reach out to Asia Outdoors, the only company that is legally allowed to provide adventure packages on the island—and more!
7. Kayak and scuba dive.
With clean blue water and calm tides, Ha Long Bay is ideal for paddling around from one limestone outcrop to the other, and sometimes even through caves. The most common areas for kayaking are part of 3 Peaches islets, Dark and Light Cave. You'll find that most tour packages offer kayaking as part of their price.
The scenes underwater are just as beautiful as what you get above. Scuba diving and snorkeling are recent additions to the activities you can do in Ha Long Bay, and you can check out DNQ Travel for more information about the packages they offer.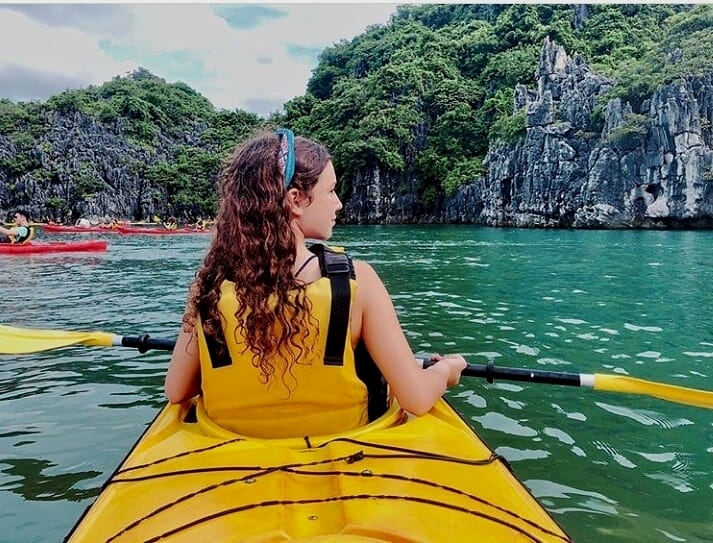 kayaking in Ha Long Bay
8. Seaplane trip to explore Ha Long Bay
Despite being rather costly, jumping on a seaplane and flying over Ha Long Bay is one of the most thrilling and scenic activities you can do. The plane departs from Noi Bai International Airport in Ha Noi, so you won't get stuck in traffic on your way to Ha Long Bay. You will be rewarded with a beautiful birds-eye view of the bay and of all the peaks in their entirety, rather than of one peak after the other, like at sea level.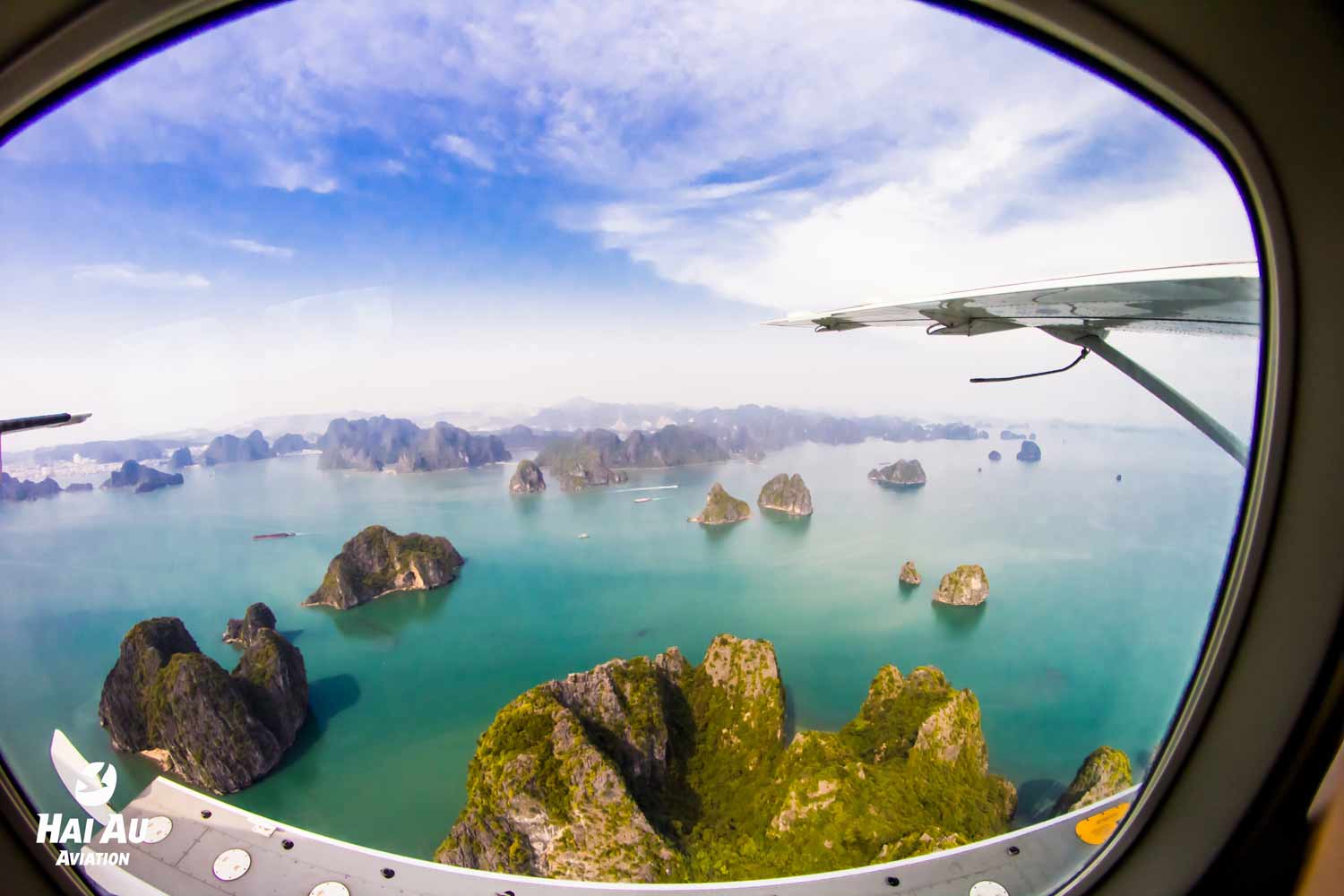 Ha Long Bay's view from the seaplane
Hope out sharing helps you somehow. Contact Wyndham Legend if you want to BOOK a hotel near both Bai Chay bridge and Ha Long park.