Culinary services at Wyndham Legend Halong Hotel provided by a team of professional, highly qualified chefs, in addition to accommodation services, the hotel has been known as one of the outstanding addresses of catering services and organizing gala dinner in Ha Long. There are three restaurants: Blue Bay Restaurant, Sakura Restaurant, Bao Lu Restaurant with their own styles. They are elegance and warmth attracted by extremely attractive delicious dishes that you should not skip while staying at the hotel.
Blue Bay Restauran
1.Fresh spring rolls
Fresh spring rolls are one of the favorite dishes by our customers because of the perfect combination between the freshness of vegetables, the sweetness of meat and shrimp blended with special sauces to create a pleasant taste. It makes you unable to resist and just want to eat more.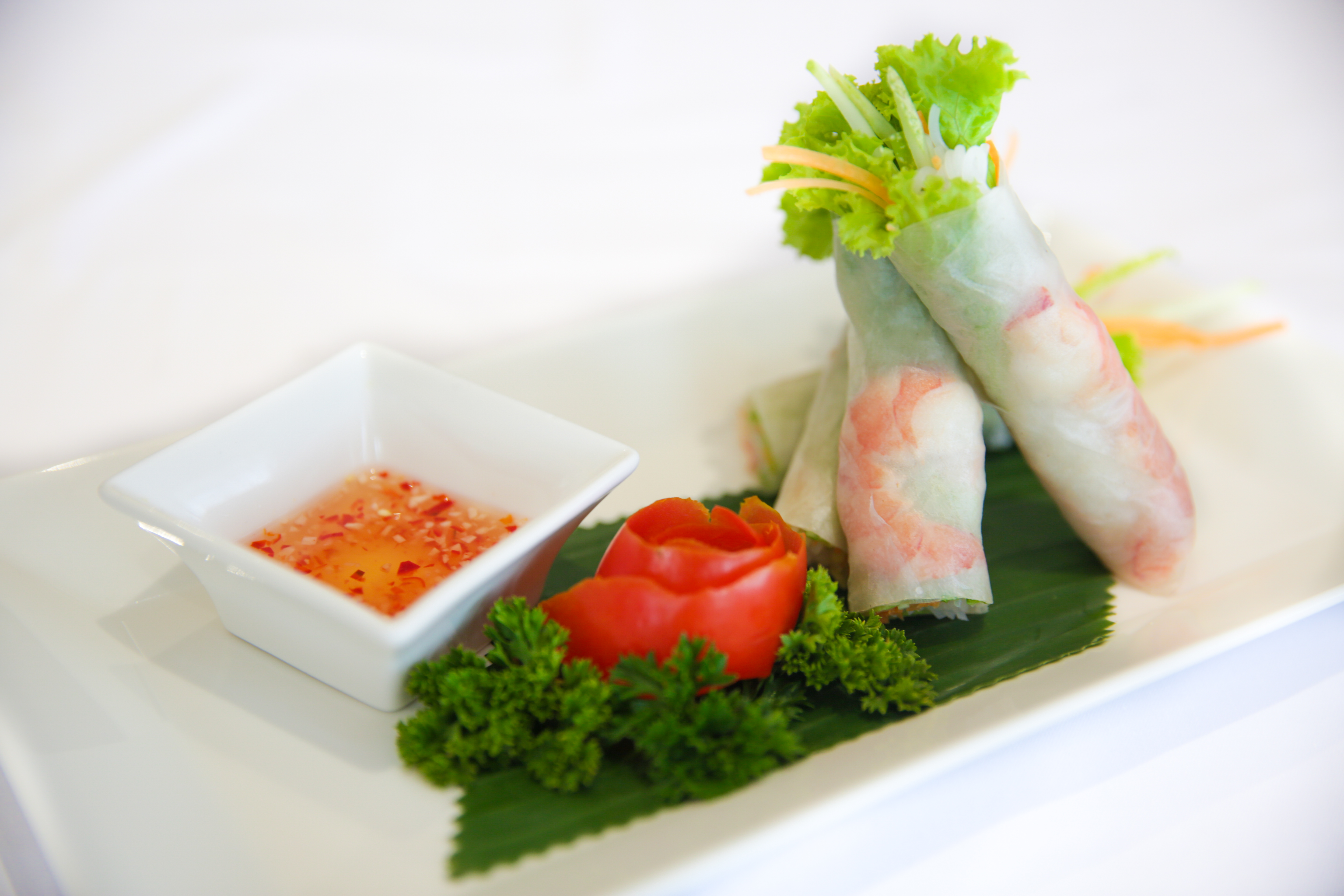 2. Vietnamese Pho (beef, chicken, seafood, ...)
Pho is not only a favorite dish of Vietnamese people, but also very attractive to foreigners. Enjoy a bowl of pho with a special flavor that is one of the top choices for breakfast when discovering cuisine at Blue Bay Restaurant.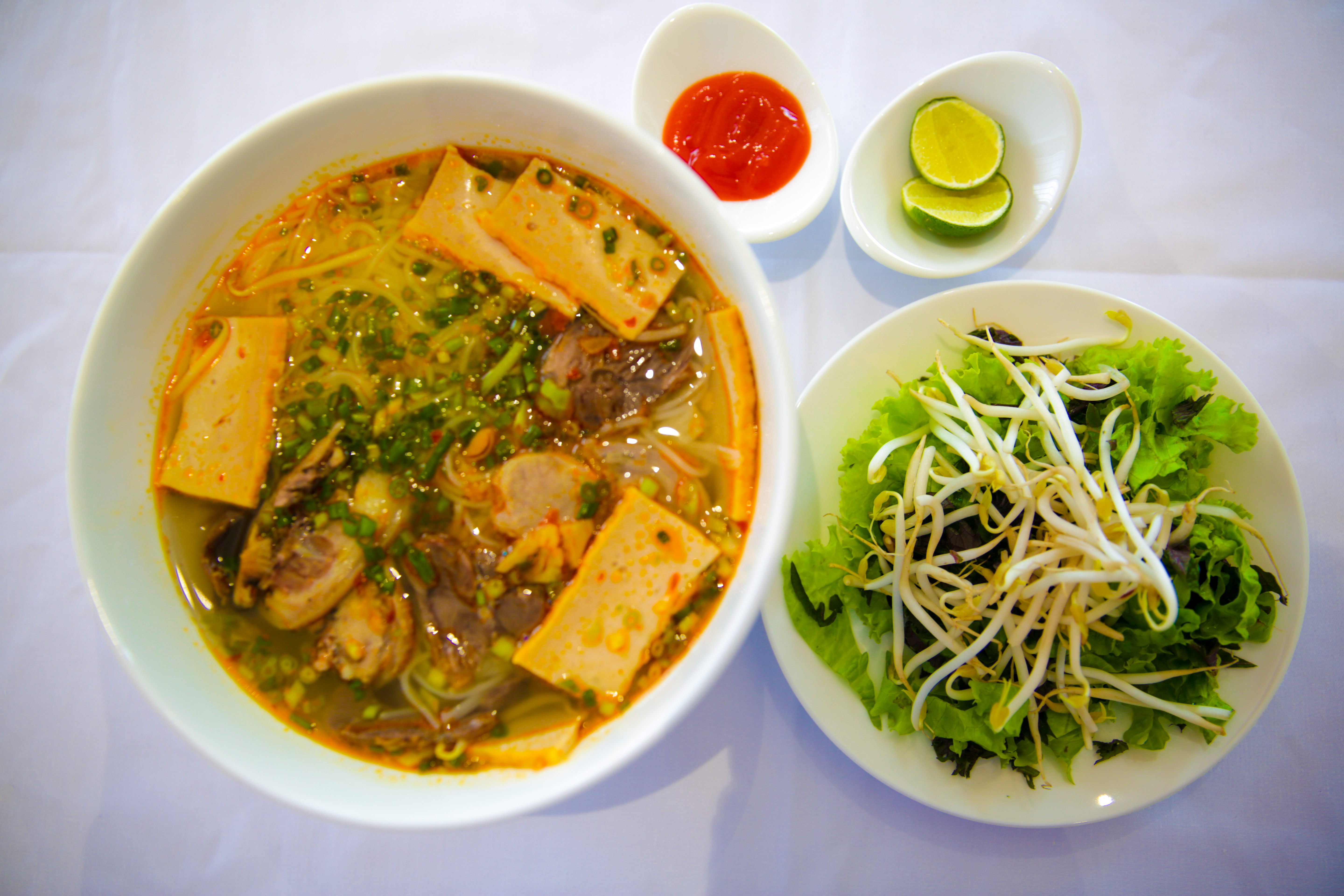 3.Wyndham beef burger
The beef burger in Wyndham styles is attractive perfectly by the fragrant soft meat combined with fresh vegetables, especially the balance of sweet and sour sauce.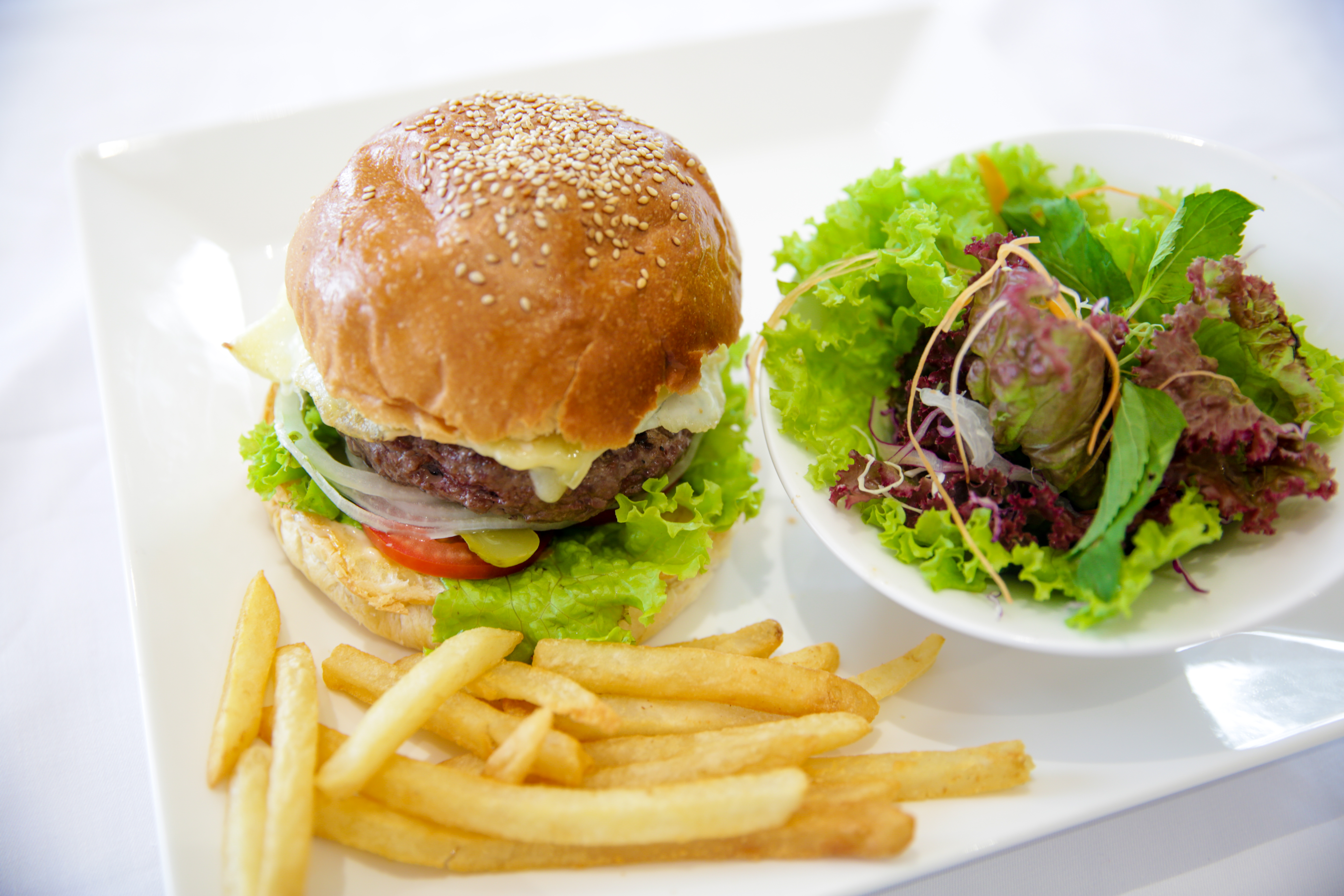 4.French goose liver (foie gras)
Foie gras is a famous dish of French cuisine quintessence at Blue Bay restaurant. You will have a chance to enjoy the fat sautéed "foie gras" watering in the mouth with mango caramel and black berry sauce. That is how you feel the culinary elite of the world right in Ha Long.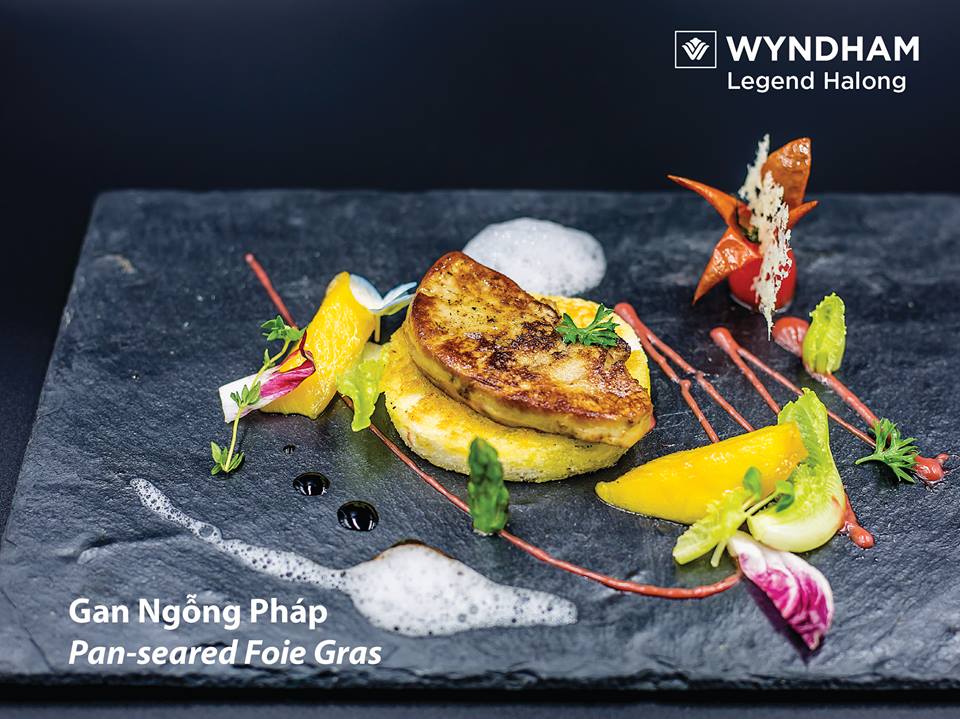 5.Grilled Australian beef
If you are a gourmet, grilled Australian Beef tenderloin is the one you cannot miss because of its delicious, sweet taste and the tender of the meat that will wake up all your sense.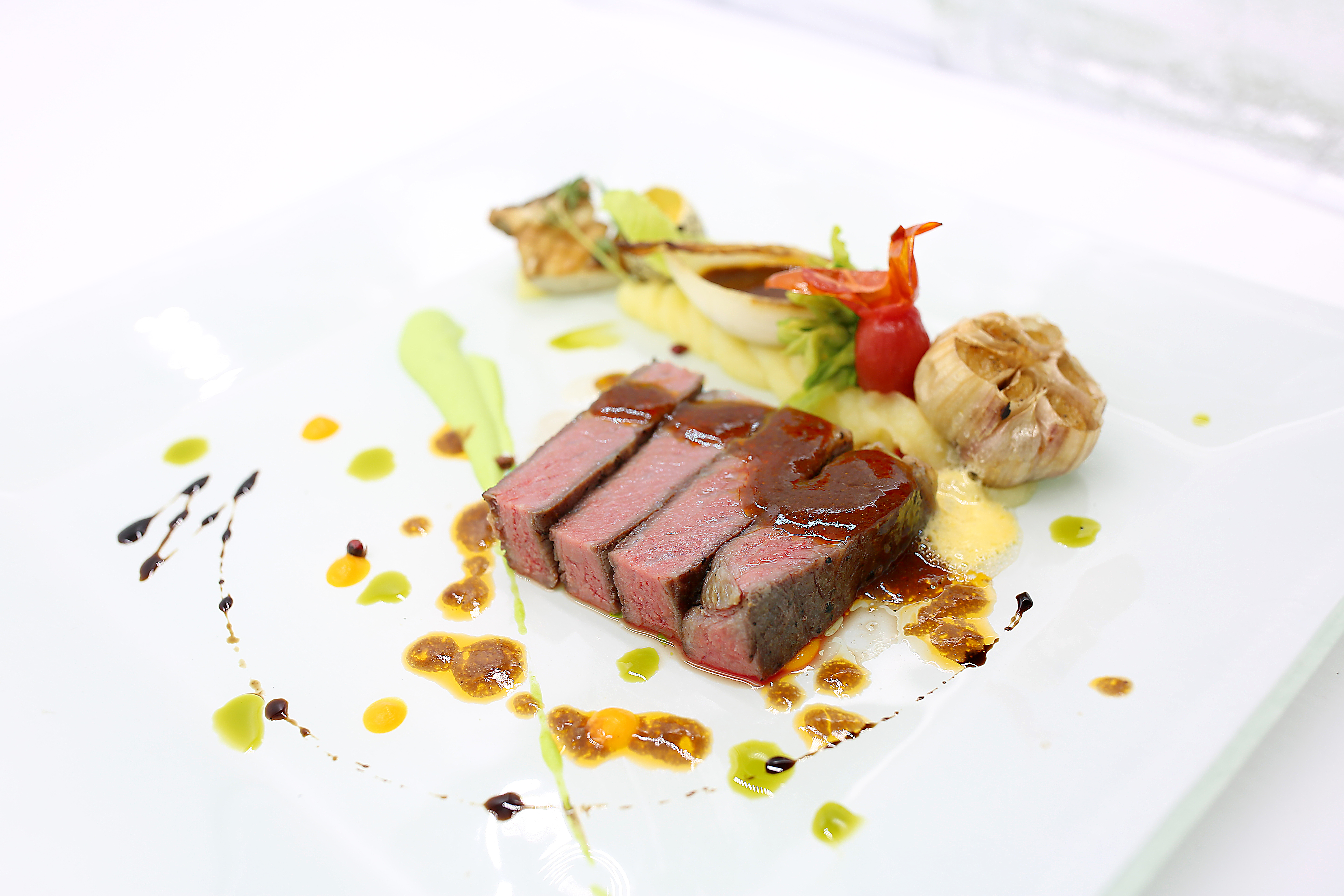 Sakura Restaurant
6. Beef Udon noodles
The pink color of delicious fresh beef is placed on the side of the egg, along with beautifully trimmed vegetables. It is Udon noodles with beef. When you enjoy Beef Udon noodles, you can feel the crispy noodles, soft and sweetness of beef and eggs, and the broth soaked in the spice that will make you remember forever.
7. Teriyaki chicken
Enjoying chicken with Teriyaki sauce in the last days of autumn or early winter, you will feel the tender of the meat with the rich, sweetness and salty of Teriyaki sauce. It will be the culinary experience that makes you craving for.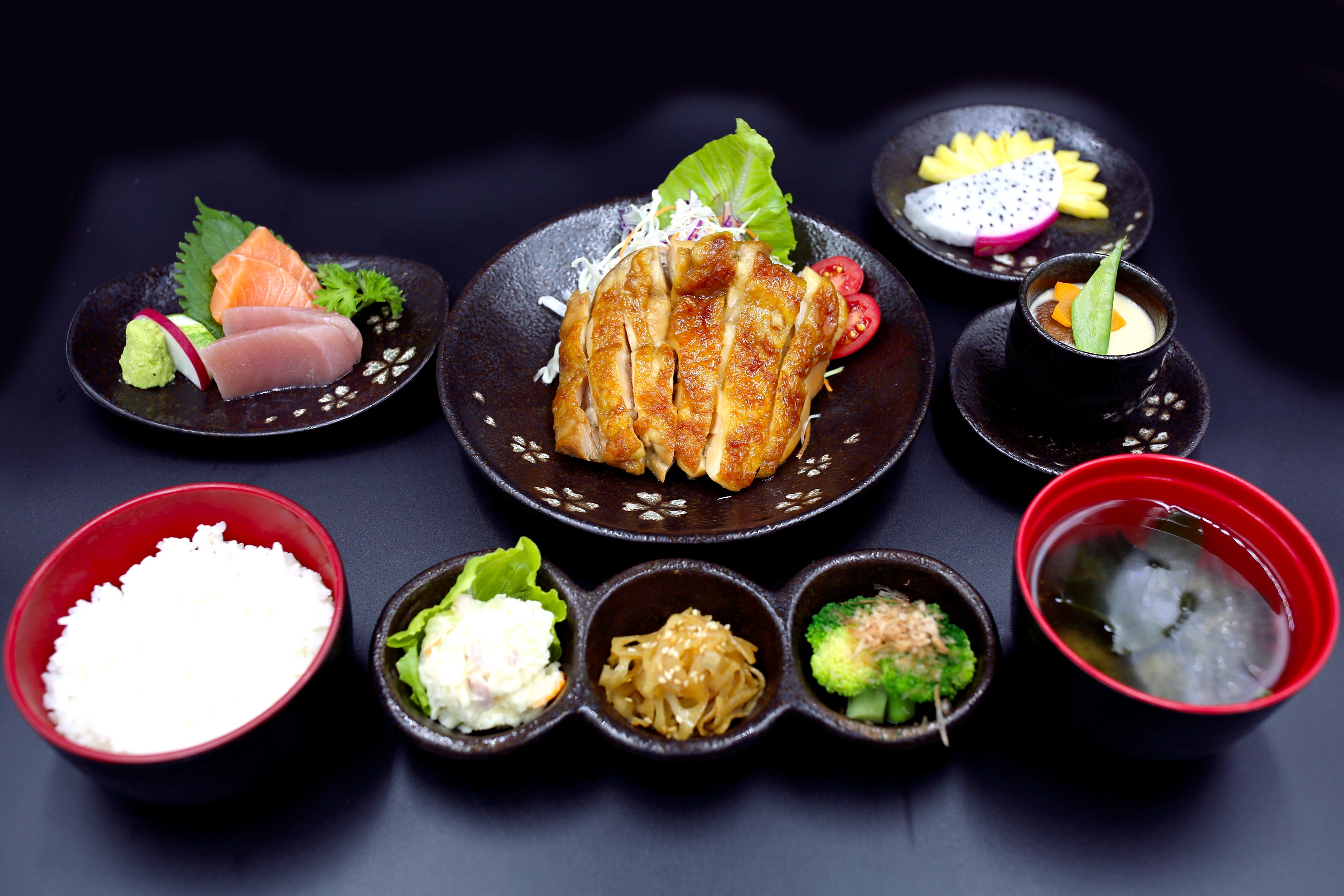 8. Fried shrimp tempuraTempura, one of the indispensable dishes of Japanese meals (crispy outside but soft & sweet inside) – let taste Tempura to feel the exquisite taste of this Japanese signature dish.
9. Sashimi boat 6 types (tuna, salmon, octopus, and herring yellow, red, blue)Sashimi - "The queen" of pure taste from the vast ocean.Sakura's Sashimi has long been famous for its fresh, nutritious, popular taste. The dish not only brings the unique culinary experience but also reflects the inspiration of creative chefs. Through skillful hands, meticulous, sashimi slices such as being soulful and artistic in nature.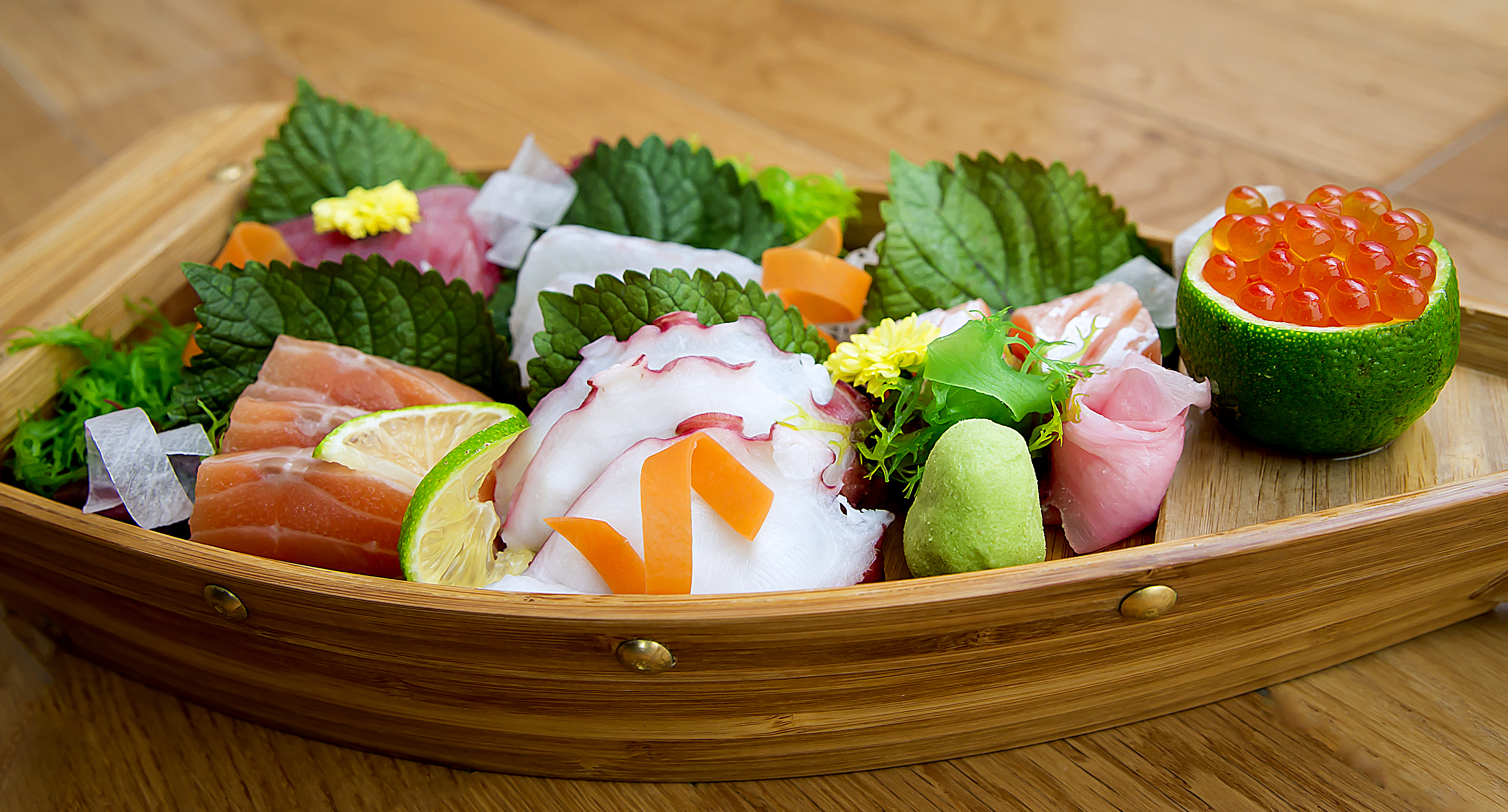 10. Grilled Japanese Eel
Grilled Japanese eel is made with pieces of fresh eels, got marinated in perfect spices, then grilled on charcoal and served with steam rice. Spices do not detract from the inherent sweetness of the eel but also help to enhance the characteristic thousand year flavor of Sakura land.
Bao Lu Restaurant - Chinese Restaurant
The world of Chinese cuisine is fascinating because of the combination and ingenious transformation between the ingredients, spices and colors, creating extremely attractive dishes such as soup with delicate flavors, stir-fried dishes with perfect seasonings delivering a charm and attractive scent.
11. Sichuan spices dishThe unique Sichuan flavored dish with the art in mixing species, the overall harmonious and wonderful taste make you irresistible and fully feel the essence of Chinese-style dish when enjoying it.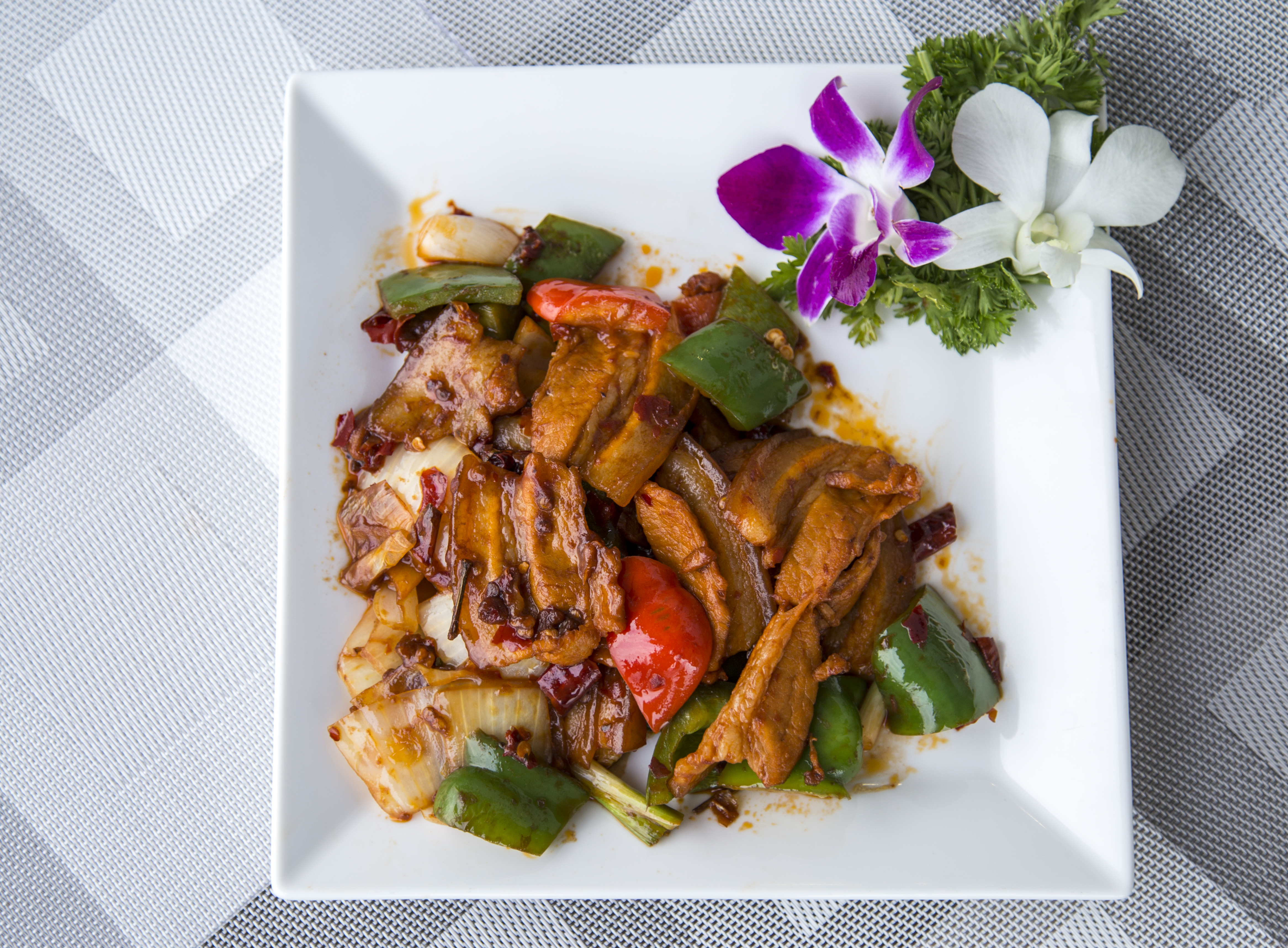 12. Grouper fish soup
Grouper fish offers rich nutrients with Vitamin B6, Vitamin B12, phosphorus, potassium, Protein, Omega3 - unsaturated fat which help to reduce blood cholesterol, circulate blood sugar, prevent stroke and cardiovascular disease. Made by the talented hands from China, the soup is not only remaining its authentic taste but also being attractive and delicious to gourmets. Finally, Grouper fish soup is a very healthy option when you chose the Bao Lu restaurant for dining.
13. Soft shell tortoise stewThe dish is made from healthy mature soft shell tortoises which are raw materials and carefully selected. Soft shell tortoise with a natural, elegant sweet taste and its meat broth will appeal to your taste buds to create an unforgettable feeling. In addition to the delicious taste, tortoise dishes are also used as a method to cure diabetes, hepatitis, menopausal in women, and weak kidneys in men.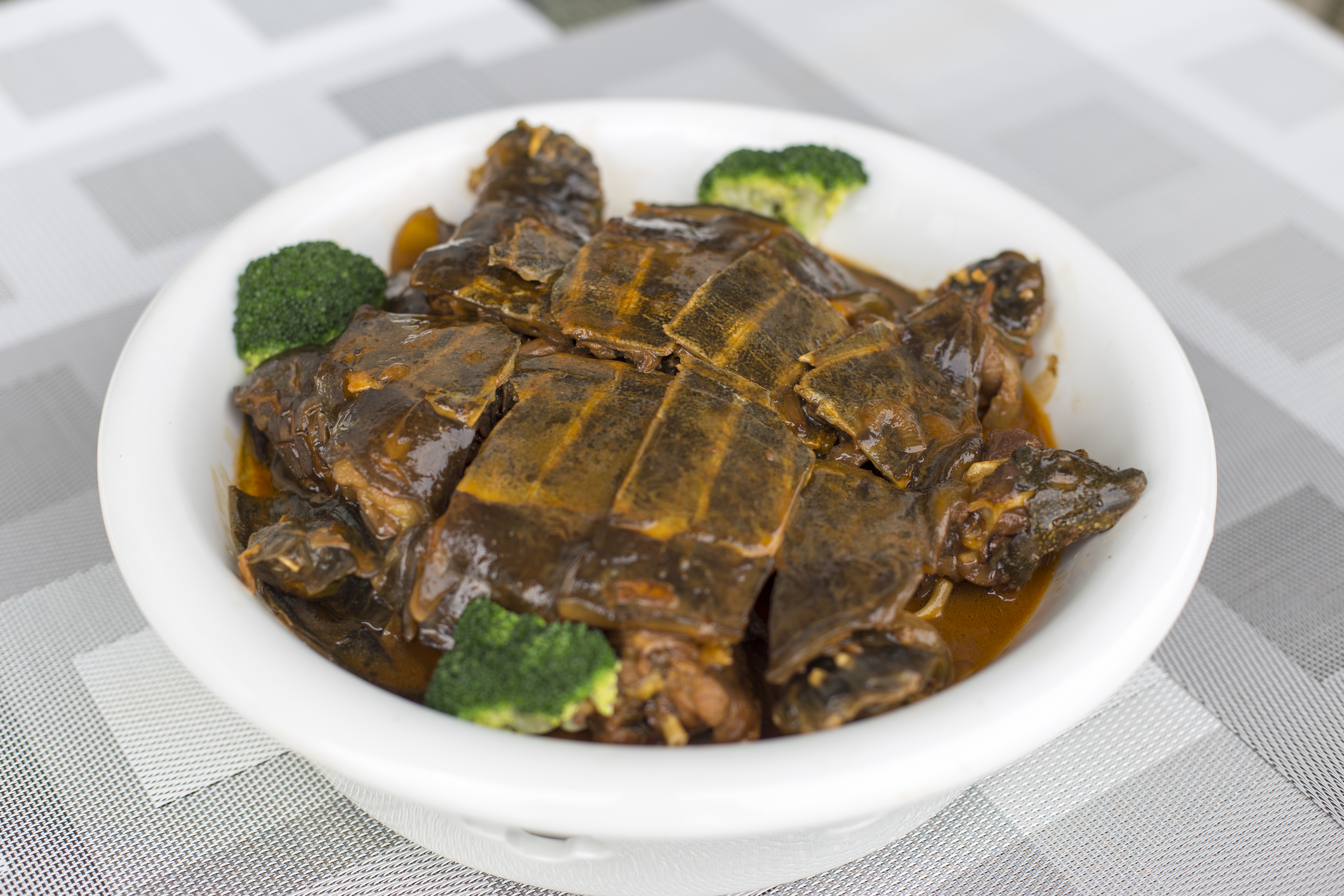 14. Steamed eel fish with black beans
Diners will not be able to forget the greasy but insatiable, sweet and chewy meat, crunchy skin of steamed eel fish with black beans. It makes you remember the appeal of the dish as always.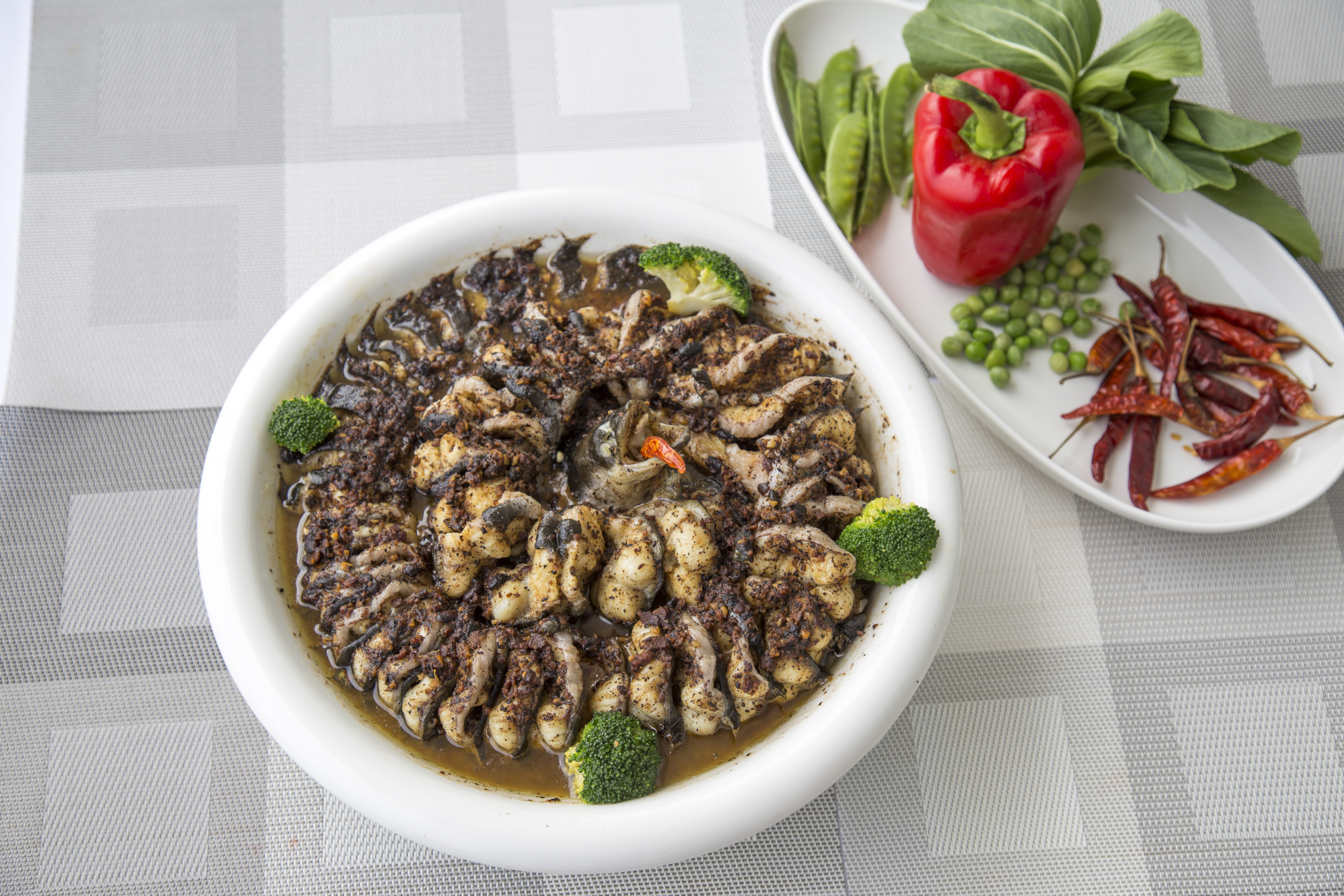 15. Abalone chicken soupThe dish is classified in the ranks of very special dishes and well known throughout China. It is made up of precious and fine ingredients, combined with abalone to create a premium dish with a delicious taste. That is the reason Bao Lu's diners could not resist coming to the restaurant.
Read more at:
Top 10 unique dishes only available in Quang Ninh
Top 10 unique dishes only available in Quang Ninh (part 2)
Wyndham Legend Halong Hotel
Địa chỉ: Số 12, đường Hạ Long, P. Bãi Cháy, tp Hạ Long, Quảng Ninh, Việt Nam.
Phone: +84 (0) 203 3 636 555 - Fax: +84 (0) 203 3 833 868
Email: info@wyndhamhalong.com - Reservation: reservation@wyndhamhalong.com