Where to stay in Baichay, Baichay' hotel, reputable hotels in Baichay…Based on the fact that tourists nowaday are spending a lot of time suffering from finding themselves a believable place to leave whenever a Ha Long trip is coming. As a Ha Long frequent visitor who has been surfing around this city since many years ago, I decided to make this finest hotel in Baichay categories list on my own, out of those commercials on Google.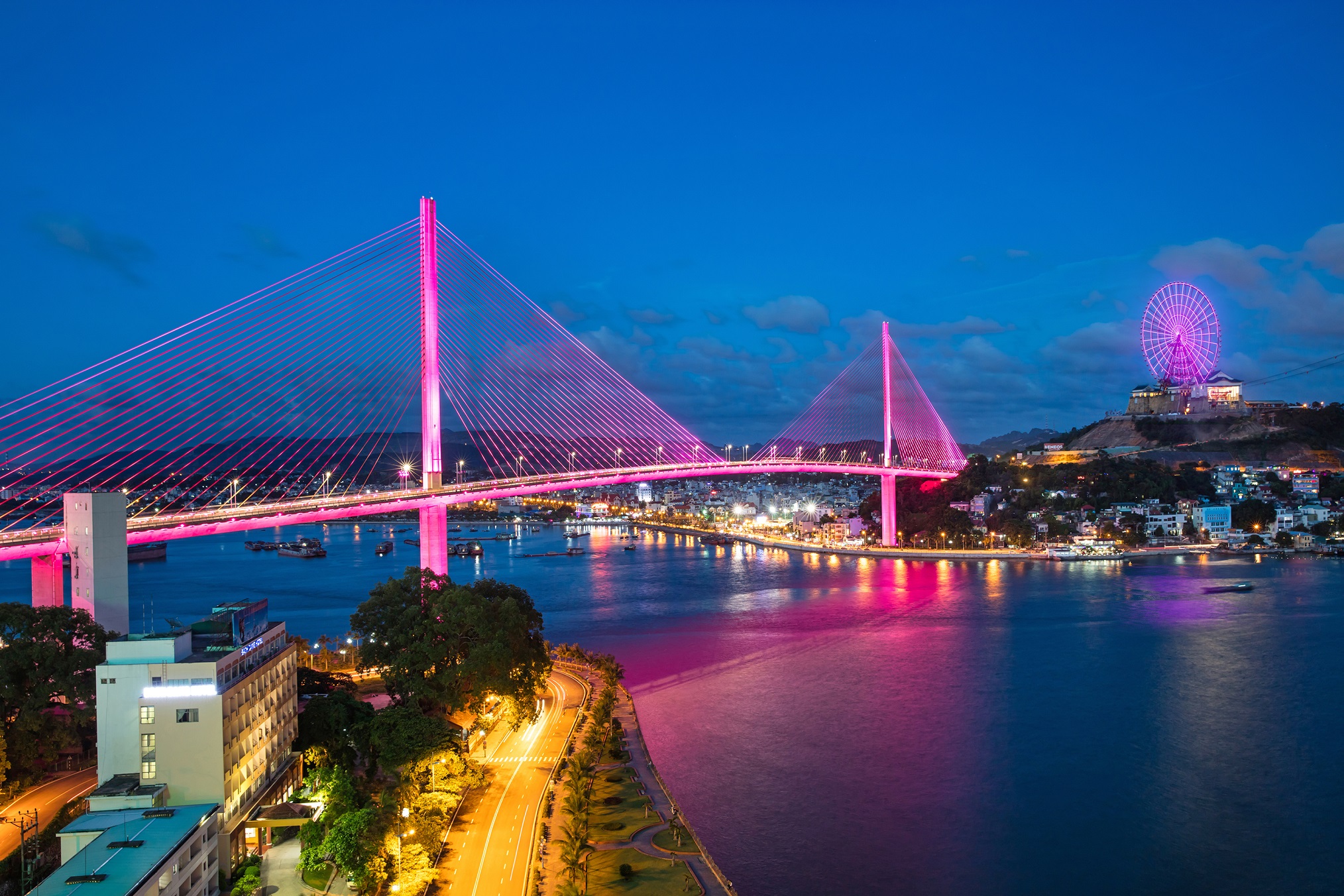 A stunning view in Baichay
To make it easy for you to follow, I will categorize it into 3 main sorts of accommodation which are: land hotel; floating hotel (cruise); and the last one, motel. So, let's begin.
1. Land hotel in Baichay:
This is the most traditional accommodation sort for tourists. Depends on the hotel's services quality and infrastructure, it ranked by stars, and here is the recommendation for each level of them
a. Luxury hotel in Baichay (4/5-star)
Since Hạ Long is a coastal city, then to reached this rank, those hotels have to at least qualify for some standards such as: located on the main road, nearby the beach and acquire those fancy areas like bar, swimming pool, spa, gym…which promises to give you the best experience and royal vacations thật can blow every girl's fantasy, no matter how fascinating it is.
- Wyndham Legend Ha Long: This hotel's description is "As one of the outstanding Wyndham brand hotels, Wyndham Legend Halong locates on the coastline of Bai Chay with stunning views of the World Heritage listed site Ha Long Bay and Bai Chay Bridge; whilst offering an easy access to the downtown and surrounding attractions", and it really is. After get off Bai Chay bridge, which leads to Bai Chay street, we can easily recognize the Wyndham Legend hotel. It's the white, high building located in front of the mini garden near the Monument, and look likes it's just a few minutes walking to get to the beach, our first consideration. I was almost fell backward while trying to count Wyndham hotel's floor for the first time I was there.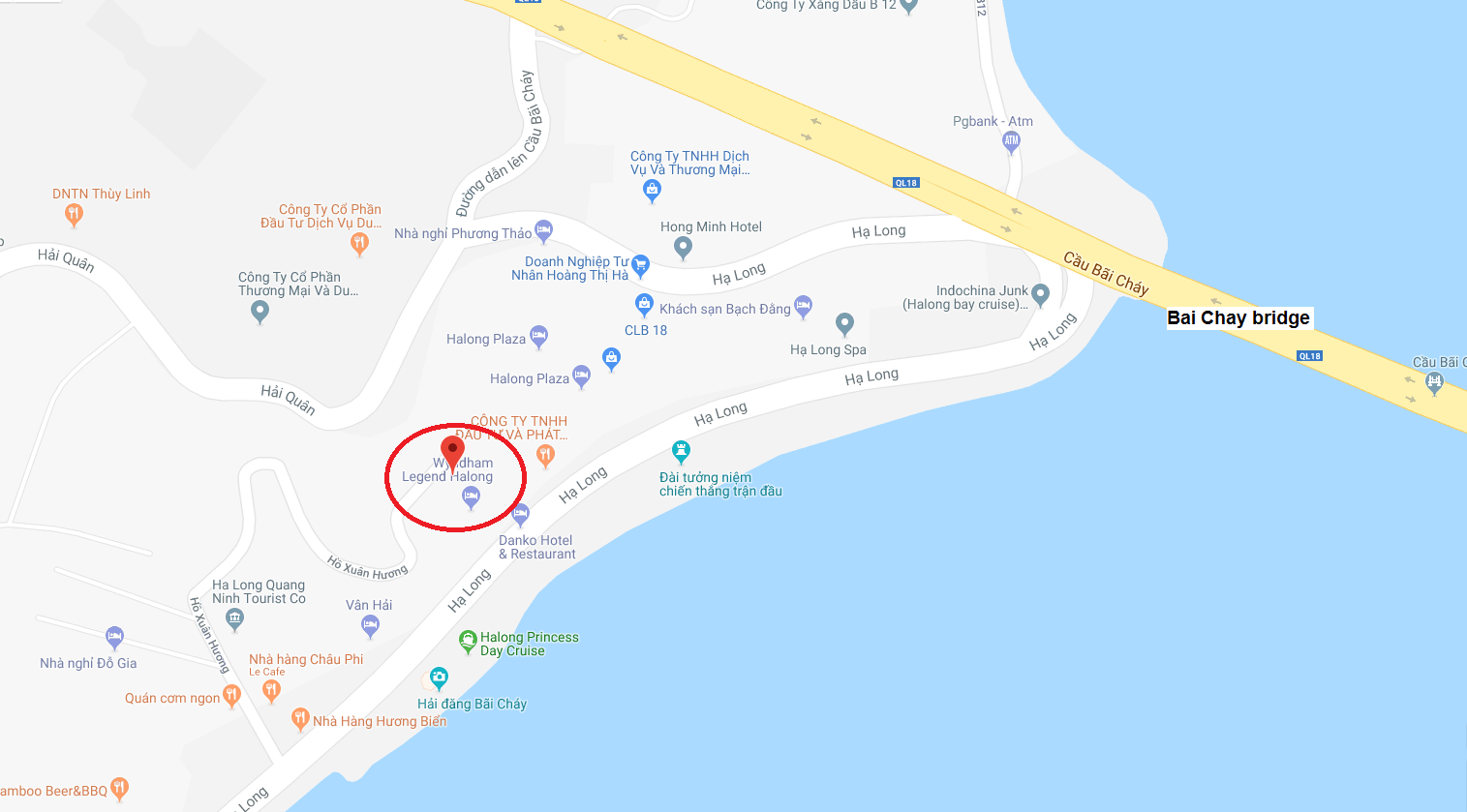 Wyndham Legend location on the map
Then it is even more when I entered the lobby. The ceiling is so high, palatial and magnificent that made me feel like a beast who is standing in front of the beauty.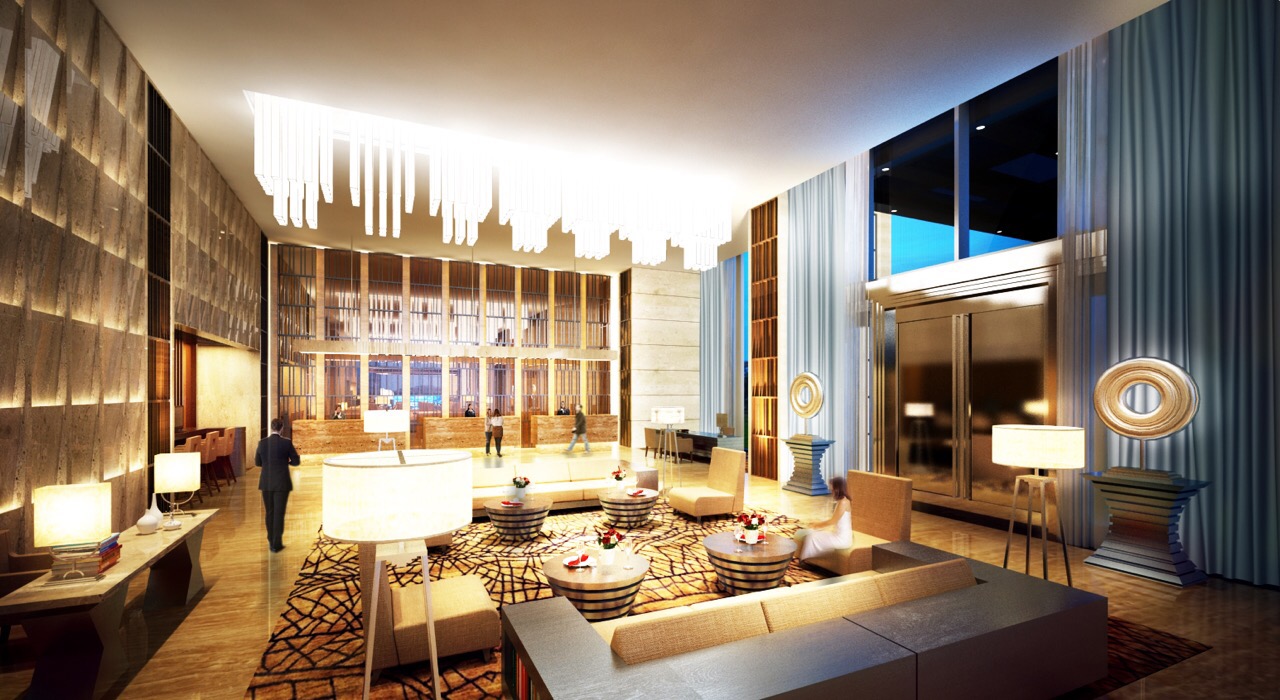 Wyndham Legend lobby
Let's stop the delineation and cut to the chase. I had booked a Superior room for two because they don't have the single room, its price is about 2.500.000 VND, less than 110$ per night, not bad for a 5-star hotel. You will have a sofa, a desk, a tv, a bathroom with a separate rain shower. But it is a bit disappointing because it took a few more time to help some tourists to confirm their reservation. Some of their staff' English knowledge is just average, they find it difficult to communicate with foreigners. In return, they are quite attentive.
Wyndham Legend superior room
That evening, I walked down to the pool to check it out, and I luckily catch up with a proposal scene. Wow, even I was breathless at that very moment, the sunset, the rose leafs laying around the ground, that man was on his knee, that combination makes a perfection. I came back to the Gym with the dream of someday, I will be able to give my life partner that feeling.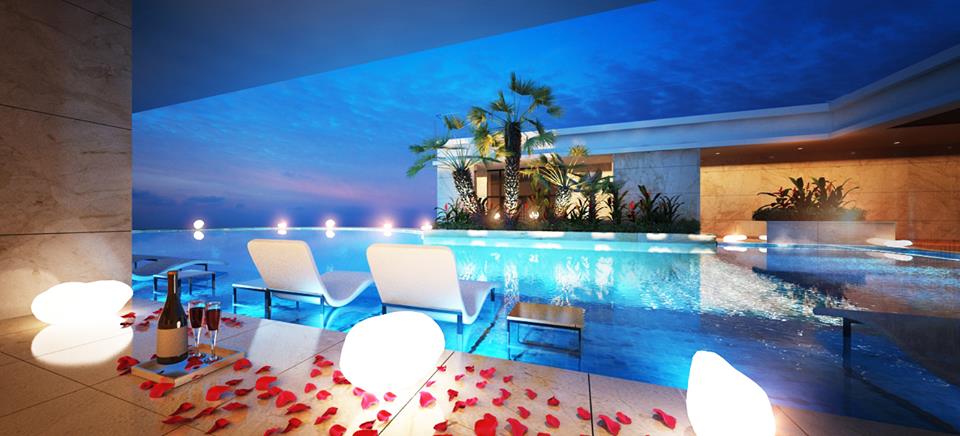 Wyndham Legend pool
- Vinpearl Hạ Long Bay resort: This time I had had the chance to try out one the famous resort in Baichay. You will be surprised if know it is an isolated resort which lives on an island named "Reu", 800m away from the land. But to reach the island, you have to take a boat. Cause this is my business trip, hence I have a colleague to share the room, which its price is about 3.300.000 VND, which is almost 144$ per a Deluxe Twin room. You will easy to notice that prices here are a bit higher than the Wyndham Legend' average, but the quality is indisputable. Look at its overview.

Vinpearl Ha Long Bay resort overview
The afternoon on the same day, we have the opportunity to try out their stunning outside pool. Its appearance is so dandy that we were almost exclaimed out loud that you could put an egg into our mouth. It totally fit their description: "You will feel the luxury, elegant in the Vinpearl classic design at first sight, which made it splendid even in daytime.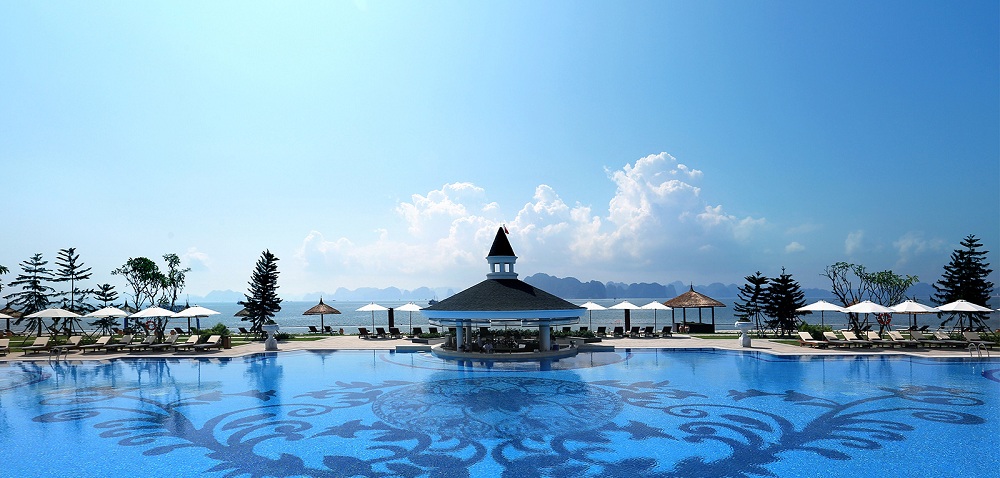 Vinpearl Ha Long Bay resort outdoor pool
After coming back from work the next afternoon, my colleague decided to work out at their gym, which offered to the tourists. But unfortunately, there was no sauna or changing room, the equipment and space can only serve no more than 10-20 people at the same time before become crowded. The only plus mark is their view, spectacular as any Vinpeal spot.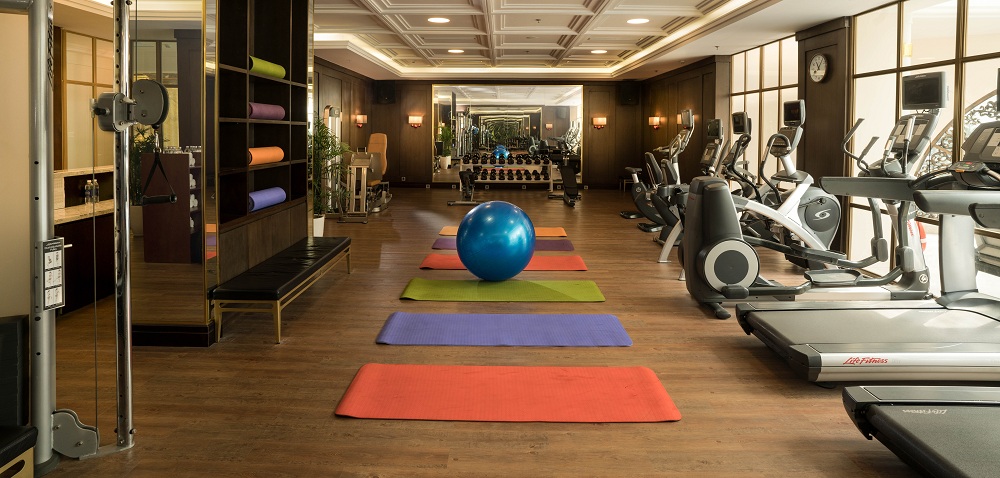 Vinpearl Gym modern area
To conclude, Vinpearl Ha Long Bay have the excellent view, the room service is quite the same as the other 5-star hotel. The extra activity such as the outdoor pool is pretty impressive but the gym is just ok, needs something better to satisfies the customer. Its hotline is (+84) 1900 636 699 if you want to try.
b. Mid-range hotel in Baichay (2/3-star)
Even these hotel is my last minute decisions, but out of all the personal feeling, depends on the quality standards, here is my suggestion for you. Remember, this information is reference only.
- Trade Union hotel: a hotel located in Baichay. This hotel is only 300m away from the beach, on the opposite side of Ha Long Park, new Baichay walking street, 5 minutes by motorbike from the Bai Chay bridge' turn error. The room is quite old, toilets sometimes have problems, but it has a spacious, wide open window to the beautiful sea view. The morning buffet is pretty good. And out of all, the price is quite low, only 570.000 VND, less than 25$/room/day. Suitable for young couples, average income family. Its hotline is (+84) 033 3846780.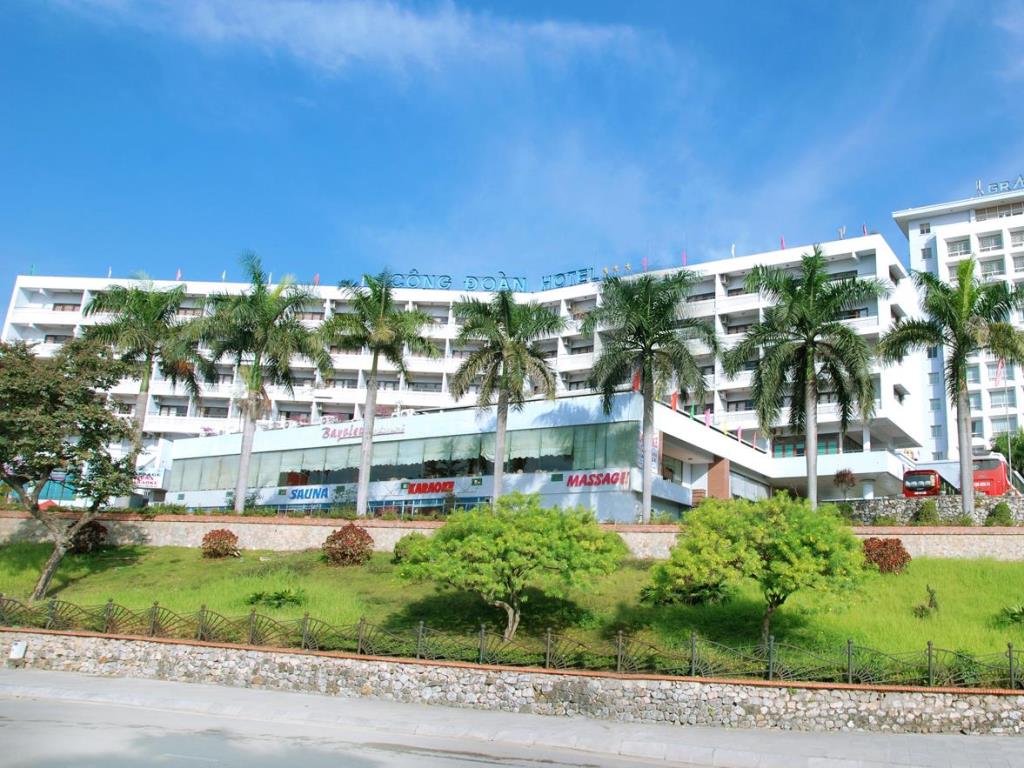 Trade Union hotel in Baichay
- New star Ha Long hotel: this one is a real new hotel in Baichay. Hence its room it not very spacious but have the classic design with wooden floor, and modern facilities. There is no problem with the room, but the food here is no diversity. Luckily its located in restaurants covered area, and close the Tuan Chau resort, suitable for those tourists who have the transportation because it costs you about 10-15 minutes by motorbike to get to the beach. Overall, the service is ok to a 3-star hotel, there are some minus points but acceptable. The Price is 840.000 VND, less than 37$/room/day, worth to be considered of. Its hotline is (+84) 333 515 928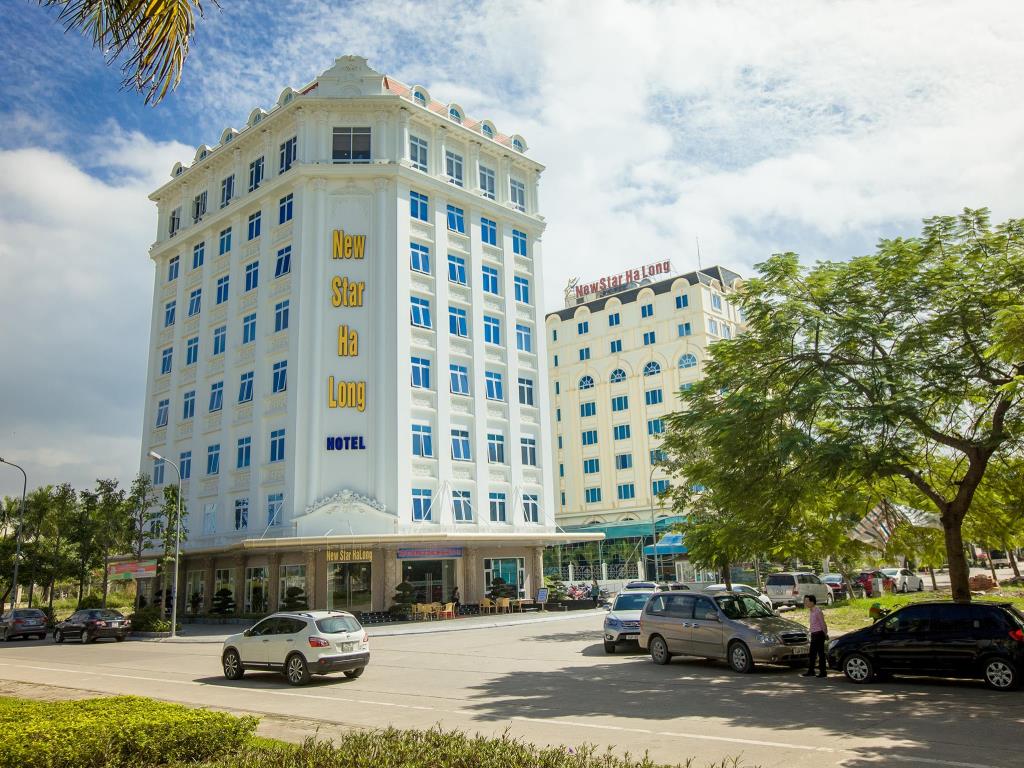 New star Ha Long hotel in Baichay
2. Motel in Baichay
This type of accommodation is not my preference, but somehow suitable for backpacking tourists, especially when they have their transportation. Because most of the motel is quite far from the center or deep in the alley, and the service is quite poor, following a low-quality room, jonly provides some necessities as a bed, a wc, maybe a tv and a fan or air conditioning if you are lucky enough. You can find them in those alleys along Bai Chay street, or ask the locals for information. Since Ha Long became a tourism city, the locals are now know how to make some simple communication in English, and Chinese as well.
But out of all, Hoang Long motel is the one that I have heard some lovely responds from my friends. Its address is group 4, block 5, Bai Chay street, Ha Long. The hotline is 0203 3515 548. You can check it out.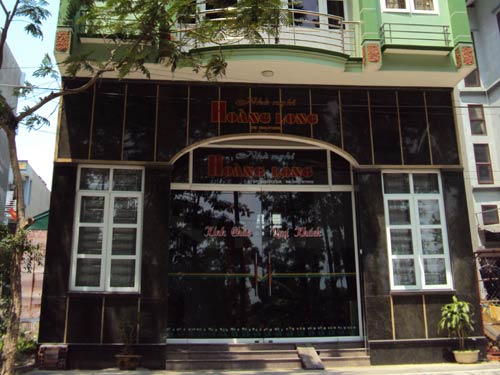 Hoang Long motel
3. Cruise
a. Luxury cruise in Baichay (4/5-star)
Of course, when I refer hotel in Baichay, there would be a place for the cruises. No way that you would miss it if you are able to have a room on those cruises, enjoy your trip in the bay with nothing to worry about because all you need is provided by the house. Let check it out if you are curious yet.
- Stellar of the seas: this fascinating cruise is a masterpiece. It's the excellent combination of classical design with the modern facilities. I had never thought of an enormous floating boat that can contain an outdoor pool, a fancy bar, an elegant wine tasting room…If I have to find a word to explain my pleasure at the first time I stepped on the prow, it would be an awkward moment because it is breathtaking.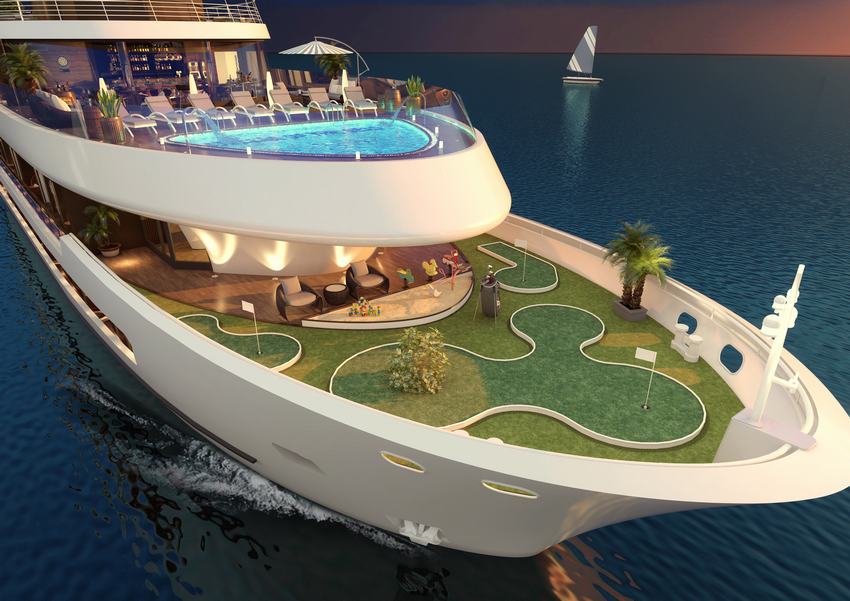 Stellar of the Seas cruise overview
Cut to the chase, the staffs: check (5 stars). Due to serving international tourist year by year, they won't be obstructed by the language differences, I mean, their staff can communicate in English well. And their working style is very professional, nothing to complain about. The rooms: I booked a single Junior suite for 4.780.000 VND for a 2 days trip, which was about 104$/person/day. Yeah, I know, it is cheaper than the 5-star land hotel in Baichay and the facilities are amazing. I had a little private balcony as well.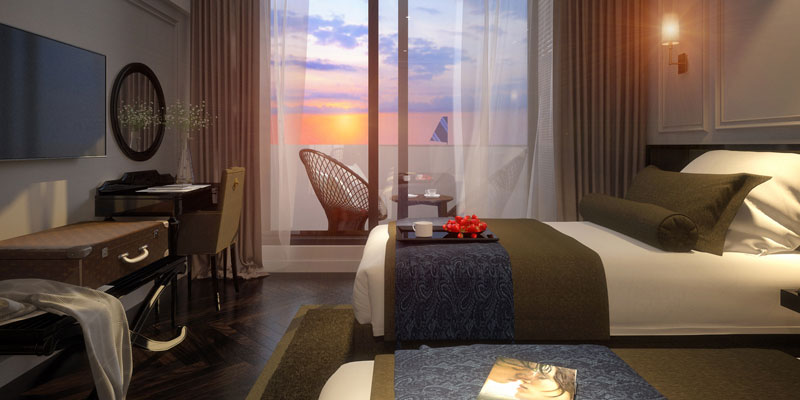 Stellar of the Seas Junior room
All their pool, sundeck, bar, restaurant…are cool, but for those people who not enjoy the pool or the other activity that much, or push off in a bad day, then it would be nothing much to experience. For myself, travel by boat all alone is the stupidest idea that I've ever made, sincerely.
- Golden Cruise: Overall, this is a controversial cruise. I have been on this cruise 2 times but got the contrasting emotions for each. Their service is quite professional, but sometimes the procedures are rigid that make tourists feel like being scammed. I'd seen a family who joined the dinner at 8 pm while the itinerary said that the dinner time was 7 pm to 9 pm, but the staff didn't let them in, and "You have to be on time!" might be something that he would wish he's never said because after the trip, that family posted their review on TripAdvisor, the cruise' visitors had decreased in a long time. But for me, despite that event, everything is ok. So, to ranking this cruise, I think it is a 4-star.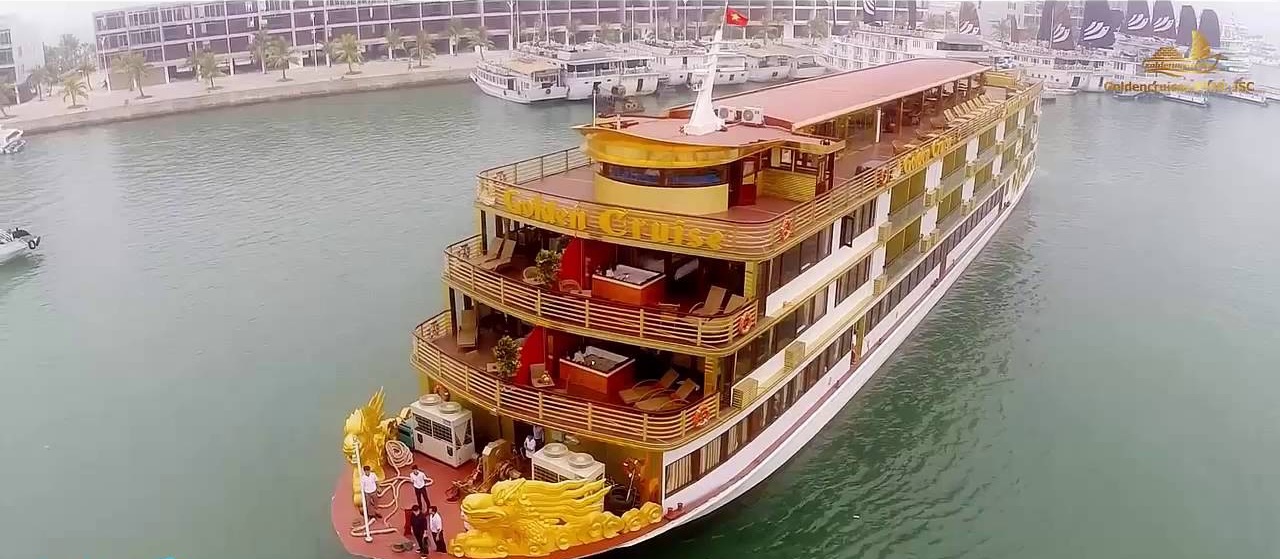 Golden cruise overview
b. Mid-range cruise (2/3-star)
If you are among the tourists who just need a cruise journey with reasonable price and mid-range standards, then those 2/3-star cruise is worth to consider of. With almost the 4/5-star cruise activities, sufficient room facilities, friendly crew, promise to satisfy you at this demand level.
- Phoenix cruise: they have 3 individual cruises, providing different service levels. Which is 1-2-3 days trip, depends on your demand. The major activities are kayaking, exploring the Bay on the cruise, caves sightseeing, swimming.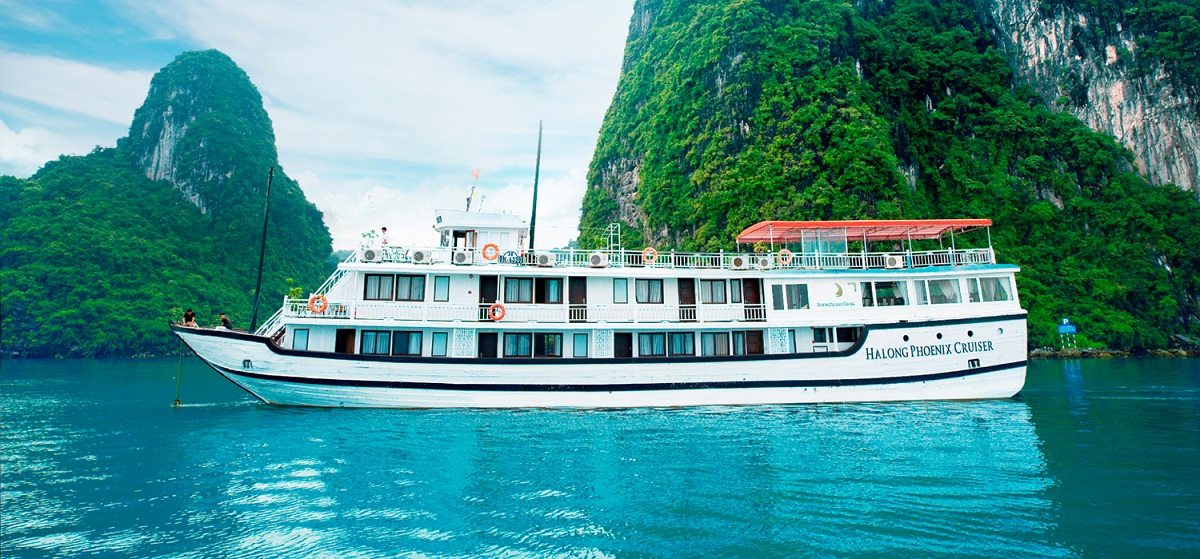 Phoenix cruise 14 cabins overview
- Moonlight Legend: similar to Phoenix cruise, but they have only one cruise which serves 2-3 days trip depends on tourists reservation.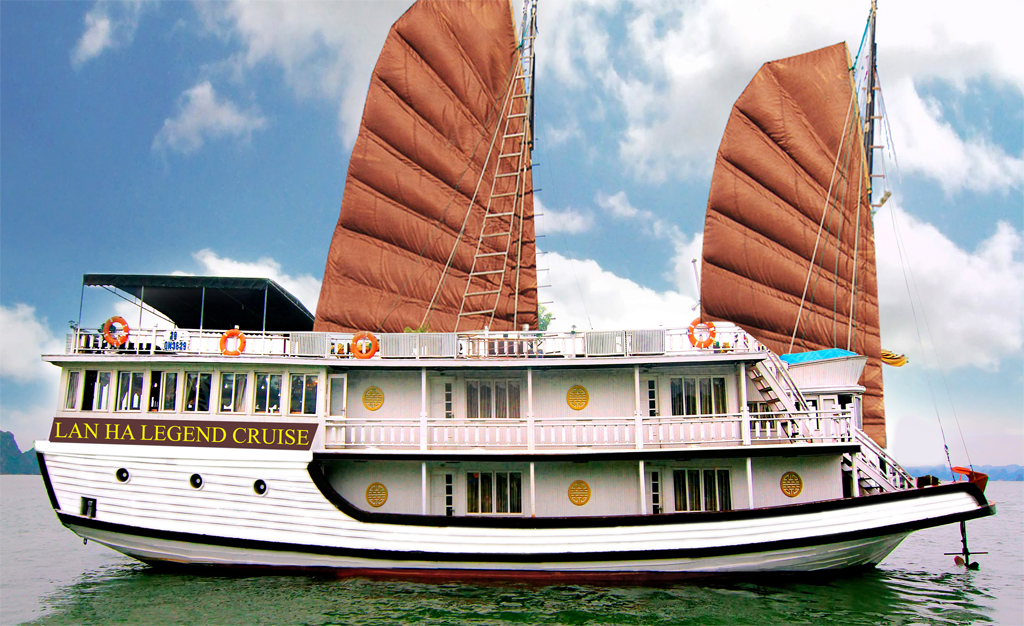 Moonlight Legend overview
That would be all, hope my review can help you out of all the commercials to have your own decision.
Best regards.
See more:
Bai Chay self-sufficient travel experiences